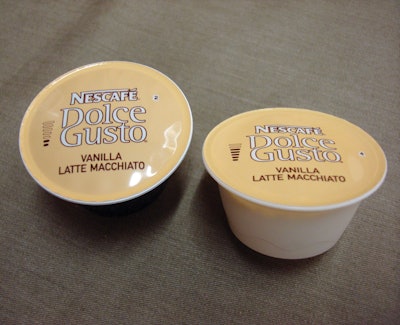 At the Nestlé Nescafé Dolce Gusto coffee capsule plant in Spain, standardization is essential to success, especially when it comes to packaging processes. By standardizing the machinery and automation for its production lines, Nestlé plans to reach an estimated output of 1.5 billion single-serve coffee capsules in 2013, bringing its total production to 4.2 billion since opening its plant in Girona, about 60 miles north of Barcelona, in 2009.
The success of the Nescafé Dolce Gusto plant also relies heavily on its commitment to continuously analyzing and tweaking its processes for improvement. Currently, a pilot line following a Total Productive Maintenance (TPM) methodology is enabling operators to examine the capsule-filling process from every angle to understand best practices and hazards. Those changes that prove successful on the pilot line will then be rolled out to the rest of the filling lines. Says Nestlé España, S.A. Factory Director Jordi Frigolé, "We want excellence on our lines."
Frigolé is a 27-year veteran of Nestlé who began his career at the Girona location as an automation specialist and is now factory director for its three plants, producing Nescafé soluble (instant) coffee, decaffeinated beans, and Nescafé Dolce Gusto coffee capsules. Nestlé's Girona Nescafé instant coffee plant—the largest in Europe—began operation in 1968. In 2008, Girona was chosen as the site for Nestlé's second Nescafé Dolce Gusto plant, joining one in Tutbury, U.K.
The original US$59 million investment in the Girona Nescafé Dolce Gusto plant included four production lines. Since then, Nestlé has invested more than US$190 million in additional capacity. As at all other Nestlé plants, automation is standardized around PLC systems from a single proprietary supplier to ensure reliability and ease of maintenance. The same holds true for the packaging equipment, selected from a limited number of key suppliers. "We chose all equipment to be standard, for ease of use and productivity," says Frigolé. "When a modification is done on a piece of equipment, it is done on all equipment."
Complex coffee capsule
The originators of the cappuccino, espresso, and latte, Europeans are coffee connoisseurs raised in the coffeehouse and café culture. To meet consumers' growing desire of late to bring the coffeehouse experience home, in 2006 Nestlé launched its Nescafé Dolce Gusto brewing system in the U.K., Switzerland, and Germany. Dolce Gusto, meaning "sweet taste" in Italian, is meant to replace bulk coffee and allows consumers the flexibility to create a number of specialty hot beverages as well as cold drinks, in single servings. Today, the beverage system—comprising a specially engineered coffeemaker and individual coffee capsules—is sold in more than 56 countries nationwide.
Unlike other Nescafé products, most Nescafé Dolce Gusto beverages use 100% Arabica roasted and ground coffee beans, instead of instant coffee. Among its 16 varieties are drinks that include black coffee, cappuccino (both hot and iced), espresso, latte macchiato, chai tea latte, peach iced tea, and hot chocolate, among others. For beverages requiring milk, a second capsule with powdered dairy is used to prepare the drink.
As Frigolé relates, whereas with Nestlé's soluble products—produced in the neighboring facility—the complexity lies in the production of the product, for Nescafé Dolce Gusto, the complexity is found in the capsule package. The capsule, patented with a special smart technology, is made from rigid plastic and measures approximately 50 mm in diameter and 30 mm deep. The bottom of the capsule is rounded, with an almost funnel shape and a hole in the middle. While coffee, chocolate, and tea capsules have a brown, black, or silver body, milk capsules are colored white.
In addition to the outer rigid container, the capsule includes several additional components. A film/foil lid, printed with the brand name and variety, covers the top of the capsule. A tornado-like graphic indicates the amount of water and time required to prepare the specific beverage (drinks can be made either automatically or manually with the system). Inside, at the base of the capsule, is an aluminum membrane, with the beverage ingredients encased above. Underneath the membrane is a perforated plastic "pyramid plate."
During beverage preparation, when a capsule is inserted into the brewing machine, a needle punches through the capsule lid into the hermetically sealed chamber holding the beverage ingredients, allowing water to enter. As pressure builds from the injection of water, it pierces the membrane and pyramid plate, which controls the flow of the prepared beverage out of the capsule.
Five brewing machines, engineered in partnership with Krups and Delonghi, offer three levels of automation: A manual machine lets users customize the coffee strength and mixture; the Flow Stop design, a computerized unit, delivers the exact measurement for each beverage; and a new Flow Stop edition adds a control "mouse" that can be used to choose the beverage recipe. The machines all deliver 15 bars of pressure, similar to coffeehouse machines, in contrast to the one bar of pressure used for traditional drip coffee machines.
Nestlé first entered the single-cup coffee-brewing market in 1986 with its Nespresso system, a more premium brand than Nescafé Dolce Gusto. Whereas Nespresso is sold only online or in dedicated retail stores, Nescafé Dolce Gusto is offered in supermarkets. Nestlé's other offerings in the single-cup brewing category include the Nescafé Barista, introduced in 2008 for soluble coffee products, and the Special.T, launched in 2010 in seven European countries and recently in Japan, which can brew up to 25 varieties of tea.
Standardization allows flexibility
Packaging operations for Nescafé Dolce Gusto coffee and milk capsules take place in a 49,000-sq-ft area of the plant that houses capsule-filling, carton-filling, and case-packing equipment. Machines are arranged in an orderly, square footprint, with capsule fillers in two columns on the outside, and two rows of carton and case packers on the inside. Currently, all products are packed in 16-capsule cartons. However, at the time of Packaging World's visit to the Girona plant, two carton-filling machines were being validated to accommodate a new Jumbo 30-capsule carton format.
While capsule filling equipment and processes as well as packaging equipment suppliers are proprietary, Frigolé shared that the plant uses cartoners that fill capsules into the primary cartons at speeds to 140 cartons/min. During the packaging operation, after capsules are filled, they are carried by a vertical elevator to the carton-filling machines, which fill the boxes by count.
Because of the variety of products produced at the plant and because some cartons require a mixture of eight beverage and eight milk capsules, flexibility is key.
"Because any capsule can go into the same size box, the combination can be as flexible as you want," says Frigolé. While in some areas, two capsule fillers may feed one cartoner (as in the case of coffee and milk products), some capsule fillers have their own dedicated cartoner. And, on one side of the packaging room, where there is a bank of three fillers—for Nesquik, milk, and chocolate capsules—the beverage fillers are each directed to one of two cartoners, while the middle milk filler can be directed to either.
After the slotted carton is filled and sealed, it is carried by conveyor over a checkweigher to ensure the correct count in each carton. The carton is then directed to one of three side-load case packers. The case packer loads three cartons into each case and seals it with a glue applicator. Exiting the machine, the sealed carton passes by a print-and-apply labeler, which affixes a label bearing information such as batch number, best-before date, variety name, and barcode.
Three conventional palletizers palletize cases coming off the three case packers. Pallet loads are then shrink-wrapped on one of two automatic ring-wrapping machines. Wrapped pallets are then carried up an elevator, over a bridge, and to a warehouse. Finished products are exported to more than 20 European countries as well as to the U.S., Canada, Mexico, Brazil, Argentina, and Chile.
Three priorities
As mentioned, the Nestlé Nescafé Dolce Gusto plant places a high priority on process improvement, as embodied by the Nestlé Continuous Excellence program (NCE). Introduced in 2008, NCE is a continuous improvement initiative based on LEAN and TPM principles, implemented to deliver the "Nestlé Model" of steady, 5% to 6% organic sales growth. Says Frigolé, "We bring transparency in operations to our employees. We want to motivate and engage them, and bring them into the day-to-day performance."
According to Frigolé, the NCE program has three main priorities:
No accidents. Part of this involves upgrading machinery safety, which Frigolé says has improved at the Nescafé Dolce Gusto plant since NCE was launched. "Our objective is to not have any accidents in five years," he says. With 650 people at the Girona location, this is a challenging goal, but one that Frigolé says can be achieved through COMPTE: Commitment/Protection/Team. "How we can achieve zero accidents?" he says. "It is through team commitment, putting all protective measures in place to avoid accidents, and working with behaviors to change the employee mindset."
Zero quality defects. "The consumer is our life," says Frigolé. "We have to not only ensure quality at the end, but also through the whole process." The Nescafé Dolce Gusto plant exhibits this attention to quality, utilizing both in-line and offline checks that include automated visual checks, checkweighing, and product testing in an on-site laboratory, among others.
Excellence in operations. This includes competitive, efficient, and reliable processes as well as sustainability, explains Frigolé. Operational efficiency is facilitated by standardization and TCM, and by programs such as the 5S workplace organization methodology—i.e., "a place for everything, and everything in its place." In terms of sustainability, the Nescafé Dolce Gusto facility is the first factory in Spain to meet environmental sustainability requirements for LEED certification. Nestlé has also made a number of other commitments to society and environmental sustainability, as reported in its 2012 CSR report, "Nestlé in Society: Creating Shared Value and meeting our commitments." This includes improvements in products, packaging, and manufacturing, among other areas.
By all accounts, the Nestlé Nescafé Dolce Gusto plant has thrived by using these methods and has been essential in meeting the incredible worldwide growth of the brand. As a 2011 press release from Nestlé reported, after just one year in operation, the facility had already achieved record levels of production. In 2013, Nestlé reported that the overall brand had achieved global sales in 2012 of 740 million, with nearly 30% organic growth in Europe that same year. Since the brand's introduction in 2006, Nestlé notes that nearly 8 billion capsules have been produced.
In May 2013, Nestlé broke ground on a third Nescafé Dolce Gusto plant in Schwerin, Germany—a nearly US$325 million investment, comprising nearly 540,000 sq ft and 12 production lines, expected to be operational by the end of the year. Said Laurent Freixe, Nestlé's Zone Director for Europe, at the official ground-breaking ceremony, "Nescafé Dolce Gusto is the leader in the portioned coffee market in 20 countries. With a growth rate of over 50%, it is one of the fastest-growing businesses for Nestlé in Europe."