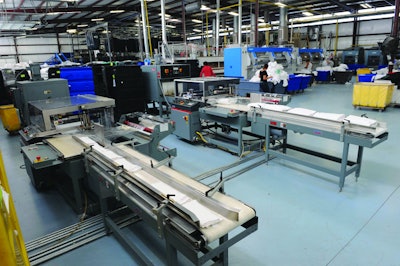 Elizabeth City, NC-based Moneysworth Linen Service is a small company that specializes in commercial laundry for hotel and rental property owners and managers in the coastal areas of northern North Carolina and southern Virginia. Washing, drying, and ironing items such as bed linens and towels, the firm provides shrink packaged finished product to customers for a hygienic and professional appearance. Moneysworth has enjoyed business growth that briefly threatened to plateau due to packaging concerns. But a partnership with Sealed Air alleviated that concern and put Moneysworth back on the fast track for further growth.
"Customers come to us because they realize clean linens are a very important part of the customer experience, and they want a partner they can trust to do the job right so they can focus on other aspects of their business," said C.J. McCauley, general manager, Moneysworth Linen Service. "We have staff that has been in the commercial laundry business for two decades, and it is that experience that helps us serve our customers well."
By 2007, Moneysworth's linen laundry service had outgrown its outsourcing relationships. So company ownership decided to build a facility dedicated to commercial laundry operations. Industry veteran McCauley was hired to lead all aspects of Moneysworth's laundry business.
From 2008 to 2012, Moneysworth more than tripled its business, from handling an average of approximately 65,000 pounds of laundry per week during the 2008 high-season to about 200,000 pounds per week during the 2012 high-season. The company initially handled its growth with automated washing, drying, and ironing systems, but McCauley and his staff realized a great deal of the upfront efficiency was being lost at the end of the process where clean linens are packaged. As business volume increased, manual packaging at times severely slowed the operation.
"We were running three shifts of packaging just to keep up with the volume of finished product from two shifts of laundry," McCauley said. "The bottleneck at the end of the process was obvious."
McCauley and Moneysworth ownership had seen how automation of upstream processes including washing, drying, and ironing had enabled the business not only to handle its larger workload, but to increase volumes and revenue as employees learned to operate machinery and grew comfortable with the process. To solve the packaging problem, McCauley turned to Sealed Air.
Shortly after joining the Moneysworth team in 2008, McCauley made the changeover to Sealed Air's Cryovac® brand shrink packaging film, using manual Sealed Air L-sealers. The shrink film used at Moneysworth is a 60-ga Cryovac brand D-955.
"In my experience, Cryovac® film feeds well compared to other films and forms a tight package to help us deliver finished product, such as sheet sets, that have a clean, professional, consistent look," McCauley said. "The ability to deliver such packaging every time is important for a business like ours. We serve a lot of rental properties whose visitors expect extra touches that in some cases might include unopened packaged linens for greater peace of mind."
Time to automate
When Moneysworth's high-season volume grew past the point of efficiency for the manual L-sealers, McCauley contacted Sealed Air representative Tom Few. After some conversation and a review of the facility's packaging needs, McCauley made the case to Moneysworth's owners that an investment in packaging automation would enable the business to keep up with growth and prepare for more. His presentation of the numbers convinced ownership to invest in a Shanklin® A-27A automatic L-sealer from Sealed Air.
"Because of our existing relationship with Tom and Sealed Air as our film provider, and my past experience with a similar Shanklin® automatic shrink packaging machine, there really wasn't much consideration of alternatives," said McCauley. "I had a comfort level with Tom's suggestions, and we moved forward with installation of the first machine in 2010."
Sealed Air and Moneysworth staff worked side-by-side to adjust the automatic equipment's setup to handle taller package sizes and irregular product shapes. Once the system was dialed in, packaging began to keep up with the other elements of the facility's operation.
"I believe one key to our successful transition to packaging automation was having a partner in Sealed Air with knowledgeable staff willing to offer assistance to make sure the equipment was tailored to our operation's unique needs," said McCauley. "That stands out to me as a key reason to work with an industry leader that dedicates resources to service."
With the packaging bottleneck solved, Moneysworth was once again positioned for growth. As that volume materialized, a second Shanklin® A-27A machine was added. Heading into the 2013 high-season, Moneysworth considers the automated packaging systems from Sealed Air to be among the most efficient aspects of operation—turning a one-time significant weakness into one of the company's strongpoints.
"By integrating Sealed Air's Shanklin® equipment and Cryovac® film, we've been able to make the packaging part of our operation nearly a fixed cost, whereas before there was inconsistency," said McCauley. "That's extremely valuable in our industry."
It took Moneysworth just a year and a half to see a full return on its investment in the Shanklin® equipment. That is even more impressive considering the extreme seasonality—the high season consists pretty much of spring through early fall—of the coastal resort business upon which Moneysworth relies. As McCauley mentioned, prior to installation of the Shanklin® automatic L-sealers, during the high-season Moneysworth ran two shifts of laundry operations and three shifts of packaging; the company now operates two shifts of laundry to one shift of packaging per day in the high-season from May through September. Current operating speed with the automated systems is approximately 20 packages per minute, an improvement over 10 packs per minute with the manual L-sealers. Moneysworth also experienced labor efficiency gains of approximately 33 percent by implementing the automated systems.
"Moneysworth is among the first in the laundry business to see the value of full automation," Few says. "They had the need for Shanklin® automatic L-sealers because they implemented such efficient systems throughout the pre-packaging steps in the process. It's impressive to walk in to the Moneysworth facility and see a relatively small operation that can outperform competitors many times its size because of smart integration of innovative technologies."
McCauley expects business to grow again in 2013, with high-season volume forecast to be approximately 300,000 pounds per week—an increase of about 100,000 pounds per week over the previous year. He acknowledges the facility's automation has become a selling point to generate additional business.
"When we have existing or potential customers visit the operation to see us in action, they walk away with an understanding of what enables Moneysworth to deliver unparalleled service," said McCauley. "Automation removes variables, particularly once personnel get comfortable with the equipment and take advantage of the speed and precision."
Companies in this article