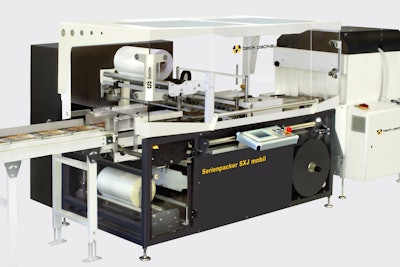 Germany beck packautomaten manufactures fully automated film packaging machines and shrink wrapping equipment. Its new production packaging machine, the beck-Serienpacker SXJ mobil with Lenze drive technology, makes extremely economical use of energy and packaging materials—even at high packaging speeds.

"We use 'beck ecofficiency' to boost our customer's competitiveness and reduce the consumption of energy and raw materials", says Julia Deharde, beck marketing manager. With each machine, beck optimizes the processing of very thin films, develops tight enclosures, maximizes consumption-reduced packaging, minimizes the use of fast-wearing parts, and reduces compressed-air costs. Collaborating with Lenze on the SXJ mobil machine, beck was able to completely eliminate compressed air, one of the most expensive forms of energy in industrial manufacturing.

In the SXJ mobil, the hoist drive of the seal bar is built with Lenze MCS dynamic synchronous servo motors that are directly mounted on Lenze helical gearboxes. The packaging machine works with two rolls of flat film instead of forming collars so products can be packed much more precisely on all sides—especially useful when packaging products like printed materials or clothing in film because it keeps the stacks from sliding about.

For closed-loop control, the Lenze 9400 servo drive controls the vertical welding bar and L-force Engineer software ensures that the unit operates horizontally in sync with the production speed. The device uses Lenze's "flying saw" solution. The welding bar constantly resynchronizes itself with the speed of the packaging material, so the edges are continually joined together within the machine during the flow of material.

"We achieve 120 cycles per minute", adds Deharde, "plus we integrated the entire feed coordinating system into the machine without any add-on modules." The SXJ mobil has its control cabinet integrated in the machine frame. The control cabinet also contains Lenze 8400 StateLine and HighLine inverter drives. The 8400 StateLine controls the speed tasks and the 8400 HighLine with integrated positioning function is used for positioning tasks—a cost-effective solution when servo technology is unnecessary.

Lenze 9400 and 8400 drives both use L-force Engineer, making it easy to implement a functionally-scaled mixed mode of operation at a very low cost. In fact, the entire SXJ mobil-system is one consistent project in L-force Engineer. For the system of axes, the frequency and servo inverters use the CAN system bus, and communication with the higher-level control unit takes place via Profibus. Plus the plug-in memory modules for the 8400 Inverter & 9400 Servo drives not only simplify machine design, they speed up commissioning and servicing times for the customer.
Companies in this article