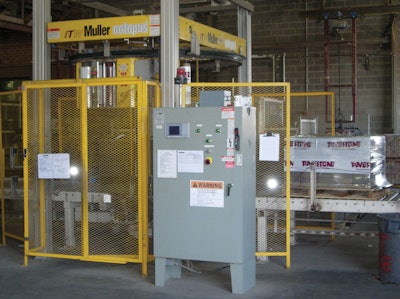 Pavestone Co. of Grapevine, TX, is all too familiar with the harsh conditions prevalent in the manufacture and distribution of "hardscape"—i.e., the materials used in landscaping to produce paved paths or areas covered by brick or stone. As a supplier to the commercial, residential, contractor, and retail consumer markets, Pavestone's concrete paving stones and retaining wall units are dropped, pushed, and shipped all around the country.


With 20 regional manufacturing facilities and over $250 million in state-of-the-art manufacturing equipment, Pavestone must continuously look to its suppliers to help maximize efficiency and maintain product integrity. Recently, the company turned to ITW Muller when it set out to achieve four distinct and ambitious goals:
• increase equipment throughput and flexibility
• prevent machine downtime
• secure loads more effectively
• increase brand awareness

Pavestone met its goals by installing ITW Muller's Octopus™ BP system, which includes the Octopus 303 rotary ring stretch wrapping machines with Tail Tucker and Logo Wrap™ enhancements.

"The harsh environment of our business necessitates that we constantly search for the next generation of packaging machines and solutions," says Richard Tree, vice president of western operations at Pavestone. "We were in need of a reliable partner, and ITW Muller stepped up to the plate and delivered."

Retailers that handle hardscape are increasingly driving innovation by demanding enhanced efficiency and safety standards. One example is the switch from strapping that holds paving stones together in a unit to stretch wrapping that holds loads much more securely and neatly on a pallet. But just as Pavestone was adopting this new packaging format, the firm entered an aggressive growth phase, making it difficult for traditional stretch wrapping equipment to meet expectations.

Take the company's San Marcos, TX, location, for example. Three product lines exit through a single conveyer, meaning the stretch wrapper at the end of the line must have significant throughput capability.

"We knew we needed a high-performance machine to minimize downtime on that busy line," says Tree. "We tried several stretch wrap machines, but it was ITW Muller's higher-speed Octopus that ultimately met the need."

Across several other facilities nationwide, Pavestone has opted for ITW Muller's Octopus 303BP. The cost-effective solution is adaptable to fit the needs of any size company, running up to 60 loads per hour depending on the application. The smaller footprint of this machine is especially suitable for the block and paver industry, and it can be easily installed over existing conveyers, reducing new machinery costs. Like all Octopus machines, its simple design and high durability further ensures low maintenance. In addition, the high performance pre-stretch design can save customers up to 25% in film usage, according to ITW Muller.

Tucking tails

A common issue with stretch wrapped pallets comes from the "tail"—a pesky piece of film left after the film is cut that can quickly become costly by unraveling the wrap completely and degrading the load. When tails come loose, they can also get caught in machines, causing downtime and requiring maintenance. Frequent load handling, severe storage conditions, irregularly shaped products on the pallet, transportation on open-bed trucks, or stretch wrap film that has low cling properties are typically associated with loose tails.

"It's devastating when an $85,000 piece of equipment goes down while preparing pallets for a million dollar client," says Tree. "The maintenance, labor, and plastic waste involved in having to get the machine repaired and re-wrapping the load also add up quickly."

Until recently, there were few ways to secure the tail—securing it to the rest of the film with a brush, tying it together at the ends, or heat sealing it to the pallet. Although heat sealing the film tail to the load is a better option than using a wipe down system or tying the ends, pallets in the brick and paver industry are exposed to harsh storage conditions and left in inventory yards for weeks and months at a time. Thus, they require an even more reliable attachment. ITW Muller's Tail Tucker provides the solution. Ensuring no more loose film tails, the Tail Tucker literally tucks the tail behind the last two full webs of film. During the last 1⁄2 revolution in the cycle, the 20" web of film is formed into a rope. As the ring frame moves to the top of the load, it pulls the rope behind the last two full webs of film and is released after it reaches the top.

"This automated system further enhances the integrity of our pallets," adds Tree. "The Octopus machine and Tail Tucker have eliminated our previously complex equipment configurations, reduced liability, and minimized our total operating costs."

Built-in billboard

Consumers are constantly bombarded by marketing messages, meaning companies have to hit multiple touch points before their brand is noticed. Whether in a big-box store, on a job site, or on the back of an open-bed truck, pallet loads are often visible to consumers but seldom differentiated. Realizing a tremendous opportunity to increase awareness of its products, Pavestone wanted to feature its company logo on pallets. Pavestone first tried other equipment models with attachments for applying a company logo and even hand-applied bumper stickers, but with little luck.

"The original equipment we tried was finicky and not very reliable or cost-effective," says Tree. "The bumper stickers were also not optimal because they degrade from environmental conditions and were hard to see. It also added an extra step for our manufacturing team because they had to manually apply them to each and every load."

When other methods failed to produce the desired result, Pavestone once again turned to ITW Muller to deliver a reliable, cost-effective solution. Because of its position to deliver both film and machinery, ITW Muller responded with Logo Wrap—a new solution developed in collaboration with Pavestone that featured the appropriate livery and could be automatically applied to a load.

Similar to the Tail Tucker, the Logo Wrap was added as a retrofit to the existing Octopus machines. It works by automatically applying the custom branded film as part of the normal wrapping process. Intermittent to the typical wrap cycle, the Logo Wrap film is applied at a defined location on the load. The Octopus machine switches from its standard stretch film to the Logo Wrap film where it is wrapped completely around the pallet, making the logo visible from all sides. Upon applying the Logo Wrap film, the machine returns to the normal wrap cycle and finishes wrapping the load.

Unlike hand-applied bumper stickers, Logo Wrap can also withstand the outdoor elements. From severe weather to dust, Pavestone can rest assured their loads are always identifiable and professional on job sites or on the back of its open-bed trucks.

"Because we ship on flatbed trucks, we identified a tremendous opportunity to reach important specifiers throughout the value chain," explains Tree. "Logo Wrap has turned our trucks into moving billboards."

Over the last five years, Pavestone has installed the Octopus BP system across seven different facilities nationwide. The company plans to eventually replace the entirety of its existing stretch wrapping equipment with ITW Muller's innovative solution.

"I'm sure ITW Muller would readily admit that at Pavestone, we have high standards," concludes Tree. "It's through our strategic partnerships, like this one, that we've been able to achieve reliable, user-friendly, and cost-effective solutions to our supply chain challenges.
Companies in this article