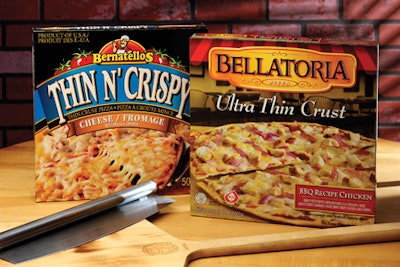 Bernatello's Pizza, Inc., Maple Lake, MN, recently augmented its cartoned frozen pizza case-packing system to accommodate growing production demands. The company had been successfully operating one Sabel case packer. In December 2008, Sabel Engineering Corp. was acquired by Massman Automation Designs, LLC. In September 2009, Bernatello's decided to purchase a second Sabel bottom-load case packer from Massman.
The newer system operates at speeds about 10% faster than the older case packer and is engineered to pack up to one hundred 12" cartoned pizzas per RSC-style case. Bernatello's general manager Jim Cousin notes, "We're currently running about 70 to 75 pizza cartons per minute on the new packer. We package 7-inch, 9-inch, 11-inch, and 12-inch cartoned pizzas, and the PLC software from Allen-Bradley/Rockwell Automation controls line movement and package size changeovers. The carton sizes are preprogrammed, so changeovers are easy and hands-off."
Made from coated natural kraft (CNK) and litho-printed in five colors, the paperboard cartons are supplied by Boelter Industries Inc.  Within the cartons, the pizzas are packed in clear, multi-layer, 50-ga polyolefin film with a propylene core. The film is supplied by Cryovac/Sealed Air and formed and sealed using Doboy equipment from Bosch.
A high-speed prestacking mechanism, custom-integrated into the stainless steel-frame case packer by Massman, enables Bernatello's to load the pizza cartons into the master shipping cases in predesignated height counts. The corrugated shipping cases are supplied by International Paper. After being loaded, the cases are automatically taped shut using an integrated Bel 250 top and bottom, pressure-sensitive case-taping system from Wexxar. Case coding is accomplished using ink-jet coding equipment from Squid Ink.
Cousin comments, "In the process of installing the new case packer, Massman technicians were hands-on until all issues were resolved. They were very responsive to our needs. We are pleased with their support and with the performance of the case packer."
Companies in this article
Videos from Massman Automation Designs, LLC