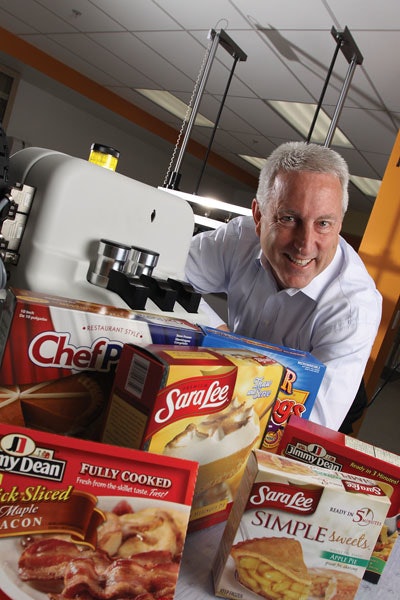 Based in Downers Grove, IL, Sara Lee Corporation is a global manufacturer and marketer of high-quality food, beverage, household, and body care products for consumers throughout the world. Many of its product lines have become household names, including such brands as Ball Park, Endust, Hillshire Farm, Jimmy Dean, Kiwi, and Sara Lee, among others. Collectively, these brands generate more than $13 billion in annual net sales across 200 countries.
Since its inception, Sara Lee has prided itself on conducting its business with integrity. In recent years, this commitment has extended to a comprehensive, global program focused on sustainability. In this exclusive interview, Glenn Ventrell, director of packaging innovation and development for Sara Lee, shares with Packaging World how Sara Lee is confronting the complexities of sustainability throughout its business and throughout the world. Serving in his position for more than two years, Ventrell is a member of Sara Lee's Global Sustainability Team and is responsible for overseeing the development of food packaging for all of the company's North American business.
PW: How does Sara Lee define sustainability?
Ventrell: We are a food and household products company. So our definition of sustainability revolves around promoting wellness and nutrition, supporting our communities, and protecting our planet in a manner that is consistent with our values. We have basically three legs that we look at: wellness and nutrition, environmental responsibility [see sidebar, page 36], and social responsibility.
PW: Does Sara Lee have any specific, quantifiable goals related to sustainability?
Ventrell: We are just in the process of finalizing those now. Our year runs from July 1 through June 30, so our next goals will go into place in July. We will have goals for package reduction, for water usage, and for energy that will be part of each Sara Lee employee's goals for 2010. These goals are not only corporate goals, but they are also goals for each person in the business area affected. For example, the goals surrounding packaging will be part of my goals, my team's goals, the chairman's goals, the brand's goals, and the supply chain's goals. So we will all be working toward the same set of numbers throughout the company.
PW: When you are looking at designing a new package or redesigning an existing package for greater sustainability, what are some of the most important considerations?
Ventrell: We use the five Rs—reduce, reuse, recycle, renew, and remove—as the premise of all design. Also we are members of the Sustainable Packaging Coalition (www.sustainablepackaging.org), so we use their guidelines, as well. We put those two together, and we see where they marry up, and that's how we design our packages. Of course, there are economic and other concerns that come into play. But first we design the packaging based around those guidelines.
PW: When you evaluate a package with the five Rs in mind, do you start at the beginning and look at each element to see if the package can be, for example, reduced, reused, recycled, etc., in that order?
Ventrell: It depends whether it is an existing package, because then we may know the answers to some of the five Rs already. If it already exists, and we know that there is no renewable material available for that application, then that would come off the plate pretty quickly. We would probably look at remove and reduce first. And then, if the package is not recyclable today, if we can get it to be recyclable, that would really be a big change.
If we are designing something new, where we have more of a blank sheet of paper to some extent, then we would look at more of the recycle, reuse, renew materials strategy, because we wouldn't really be removing or reducing at that point.
PW: What role do you see alternative materials such as biopolymers playing in your sustainability efforts?
Ventrell: We definitely see a bigger role as these materials continue to evolve. That may include some of the sugar- or tapioca-based starches that are coming onto the scene more and more, with production plants being built predominantly outside the U.S. We will also likely consider these materials when they have been tested to the same quality levels as the materials that they are replacing. And, we also have to look at the economics. But certainly, if those things start coming into line, which they will over time, then we will be testing those materials.
PW: Can you share an example of a package that was developed or redesigned to be more sustainable?
Ventrell: Sure. One example is the Hillshire Farms lunchmeat in a tub. Last October, we reduced the height of the tub by 3⁄16 of an inch. It doesn't sound like much. When we first talked about it, most people said, "What does 3⁄16 of an inch really mean?" It means quite a bit when you think about it differently.
The reason we reduced the height of the tub by 3⁄16 of an inch was because we were trying to figure out how to make that package more sustainable after talking with some of our customers. We backed into that number by asking ourselves, "How can we get more packages onto a truck?" What that did for us was it added one more layer per pallet, and the pallets are double-stacked. So that's equivalent to something like 60 more layers per truck, which took about 900 trucks off the road a year. It also took out of the system about 6,500 pallets, and it reduced the amount of plastic used by about 625,000 pounds, the amount of fuel used by more than 79,000 pounds, and the amount of corrugated by more than 630,000 pounds.
I would say that is one of the things that has changed about designing for sustainability. People were always looking at the front end of design, at the primary selling unit. When you start looking at it from both ends, sometimes you come up with some pretty big sustainability savings. You need to look at it from the truck going backwards, as opposed to looking at it from the container going forwards.
PW: Can you explain how Sara Lee has been redesigning the pallet configuration of more than 1,200 of its items to allow operations to better utilize the space available on trucks and in warehouses?
Ventrell: Up until a couple of years ago, Sara Lee was a group of companies that worked somewhat independently of one other, and so did their factories. As you can imagine, there were all different height and pallet-pattern designs based on local conditions, such as their palletizers, the height of a factory door, whatever. When we went to a central distribution system, what we noticed is that we were either constantly re-palletizing or not being very efficient with trucking.
So we launched a program called Standard Unit Load and, based on standard height and weight guidelines, we were able to maximize the amount of product per trailer, both at the factory level, and, more important, at the distribution center before product was sent to our customers. It really changed the way we did things and the way we shipped to our customers.
To put the program in place, we had to touch almost all of our items to change the pallet patterns. In some cases, we were then able to reduce the corrugated; in other cases, we had to strengthen corrugated. But the end result is that we were able to reduce the amount of trucks on the road by putting more uniform loads on each truck.
PW: Do you have a specific example of a package or pallet pattern that was redesigned for this project?
Ventrell: A good example is our Jimmy Dean breakfast sandwiches. In that case, they were building pallets of product to height. So there was a lot of space above the pallet in the truck, because when you only build one-pallet high, if you build it too high, it's going to fall over. So, by putting two pallets in the truck, one on top of the other, we were able to extend the height inside the trailer and make more use of the space.
By going to this format, we were able to increase the weight we put on each truck by about 14%. This eliminated 800 truckload shipments, resulting in a reduction of about 532,000 food miles and around 2.3 million pounds of CO2.
The logic in the past would have been, "The more I can get on one pallet to put on the truck, the more money I will save." The reality is that how much you can cube-out a truck is much more important from a cost and sustainability standpoint.
PW: Has Sara Lee's size and existing infrastructure helped or hindered its ability to adapt to new sustainable packaging practices?
Ventrell: Sustainability has been around for a long time; it's just been called different things. So it wasn't new. What is new is the organization under sustainability. I am part of Sara Lee's Global Sustainability Team.
We have a lean management structure, and so it wasn't too hard to get sustainability sold in as a concept. Oftentimes when we look at sustainability, especially in the area of packaging, cost savings and sustainability go hand-in-hand. A lot of that was being done, now it has just been brought all together. Actually the corporate structure helped bring everything together.
Smaller companies may be more flexible if they only have one factory they are trying to change. It may take us longer to do because you can't change everything on day one. But the magnitude of the change with a larger company will be much bigger in the long run.
PW: What role do you see packaging machinery playing in meeting your sustainability goals?
Ventrell: I actually think machinery could be playing a much bigger role than it does today. Manufacturers still sell equipment based on how fast it can run and how efficient it is. But some companies are starting to get the idea that there is more to it. If equipment is more sustainable in the amount of energy it uses, the amount of water it consumes, or the amount of waste it discharges, then it is actually less costly. So there are more factors involved in the design of equipment than, let's say, efficiencies, run time, and things like that.
You don't hear very much at all from equipment suppliers selling equipment based on those attributes. I think they are overlooking something there.
PW: Has the economic recession lowered Sara Lee's sustainability priorities at all?
Ventrell: Actually, no. In this last year, I have attended numerous sustainability conferences and have spoken at several. Part of this year for us was to start looking at our targets for going into 2010, and that was before the economic conditions changed. In order to do that, we had to start working on things this year.
Most of what we've looked at didn't involve huge capital purchases. I am sure if it did, there would have been some changes, but since that wasn't the issue, our paybacks seem to be quite good.
PW: I have heard people say that if you are not involved in sustainability, your business is more vulnerable—that now is an ideal time to be looking at sustainability. Do you agree or disagree?
Ventrell: I would agree. When economic conditions aren't good, some companies are going to cut a lot of things out. Then when they come out of the recession, they are not going to be very well positioned for the future. Now is the right time to be innovating, to be looking at sustainability and things like that so that when the recession is over, you are coming out that much stronger.
PW: In Sara Lee's 2008 Sustainability Report, it indicates that much of the carbon footprint of your products results from indirect consequences, such as consumer preparation. Is Sara Lee attempting to reduce the carbon footprint of the consumer stage through new packaging or product technology that might reduce the amount of energy required or emissions released during product preparation?
Ventrell: Yes, especially with many of our products that are heated in a microwave. What we are looking at is reducing the time or improving the quality of the product in the microwave. And when I talk about improving the quality, that is because people just keep adding more time to heating the product if they think it didn't work right the first time. People inherently don't follow instructions. So we are trying to come up with some packaging, like for our frozen pies for example, that is more efficient in the microwave. The pie packaging is not on the market yet, so I can't go into a lot of detail, but certainly that's an area we are looking into.
PW: So you feel that reducing carbon emissions at the point of preparation is also your responsibility, even though the product has already left your hands?
Ventrell: The way I look at it, until the consumer has consumed the product and has done whatever they are going to do with the packaging, I still have a role.
PW: What do you think of Walmart's packaging scorecard, and how has it affected Sara Lee's packaging strategies?
Ventrell: I think it's actually had a positive effect. It gets you to focus more when one of your largest customers in North America starts working on sustainability, and then it doesn't become a push from us. We are both on the same team trying to get to the same end results, which isn't always the case between companies, customers, and consumers.
In the case of Walmart, they've got a program that isn't all that dissimilar to ours. We keep other information in addition to the scorecard for a couple of reasons. One is for our own understanding of what we are doing. The other is in case other companies come along and ask for scorecards or ask for information, they probably won't be looking for the same data. So while the scorecard is quite time-consuming on the one hand, it has had a positive impact on the other.
The Walmart buyers I have spoken with have been very proactive in supporting our efforts. We also have a Sara Lee team in Bentonville [AR], and I am constantly updating them on what we are doing when it may affect the scorecard.
PW: How do consumers fit into Sara Lee's movement toward greater sustainability?
Ventrell: After the product is sold to a retailer, the consumers are the first ones who are going to prepare the product, consume the product, etc. A large percentage of consumers haven't really been that knowledgeable about sustainability. They have more knowledge on recycling.
What we have found is that one of the leading ways that consumers get their information today is through the Internet. On our site, we have tried to educate consumers on our sustainability initiatives, such as the fact that all of our cartons and cases are certified by the Sustainable Forestry Initiative (SFI, www.sfiprogram.org). We also give them nutritional information on the site, and our annual report is on there (www.saralee.com/sustainability_report/2008/flash.htm).
In terms of educating the consumer, we also carry the SFI logo on our packages if the material is certified.
PW: Do you think that these types of sustainable packaging initiatives have an impact on what the consumer buys? Ventrell: I've read lots of studies on that question, and they don't all say the same thing. But one thing that I have gathered from what I've read is that if consumers have a choice between products that are competitively priced, they will typically pick the one that has some kind of sustainability story or logo, even if they don't particularly know what the logo means. With consumers, especially in these times, price will always win out unless you are selling in certain types of retail stores. But if all other things are equal, they clearly say that they will pick the more sustainable product.
PW: What are some of the most valuable lessons you've learned at Sara Lee through your experiences setting sustainability goals and implementing more sustainable packaging?
Ventrell: I guess it would be the fact that sustainability touches everybody. When we first started talking about it from the packaging aspect, like in so many companies, it was seen as, "Okay, Glenn! That's your area. Go take care of it!" But very quickly we found that, whether you are in marketing, or in sales, or in finance—any part of our business—you are part of our sustainability program, and you have a role to play whether it's an aggressive role or a passive role or an informational role. But it's touched so many more people than I think anybody expected.
PW: What do you think is the greatest challenge facing the packaging community related to sustainability?
Ventrell: I think the question of biodegradability is a big challenge, it is a question mark. Is it real? Is it certifiable? Does it mean the same thing to everyone? When it comes to biodegradability for Sara Lee's packaging, we are not making products that are usually consumed in a car, so roadside trash isn't one of our biggest issues. Ours is trying to get things to be recycled versus going into landfills. So if biodegradability is more positioned at sunlight and moisture, then that doesn't really help us. If the material biodegrades in a commercial landfill as opposed to a compost pile, which is not predominant in the U.S., then that helps us. So trying to figure this whole thing out about scientific evidence and the claims is a big issue in every conference I go to—to try and really get down to the bottom of it.
PW: You mentioned that you previously lived and worked in Europe and that there, sustainability is something that you "live and breathe." Why do you think there is such a difference between the U.S. and Europe in terms of their attitudes toward sustainability?
Ventrell: I lived in Germany, where you have the Green Dot recycling program, which is legislated by the government. They have environmental impact fees, where companies pay on the amount of packaging they use. The intent there is to reduce the amount of packaging and use more single-layer paper or film packaging. This is quite impossible for some products obviously, but it does help.
In Germany, consumers have central recycling stations. So you have the ability to recycle a whole lot more than you typically do in the U.S., and they have one program for the country as opposed to 8,000 programs in the U.S. My trash can in Germany was really small, but my recycling containers were very big.
Then also, when you buy products in a supermarket or a convenience store, you have the ability to get rid of your excess packaging before you even leave the store, which I always thought was quite interesting. The classic example of that is toothpaste. Toothpaste is sold in a carton, but you really only use the tube. So when you are walking out of the store, throwing away the toothpaste carton has no negative impact because you have already made your purchase decision.
I would say the U.S. is catching up in some areas, but certainly not on the government level, where we have one national policy on recycling and what can be recycled. But I live in Wilmette [IL], and over the last several years, the town has continued to add more items that we can recycle there.
PW: Do you think there will be changes at the governmental level moving toward one collection and recycling system?
Ventrell: There are so many thousands of companies that do refuse hauling in the U.S. that there would be quite a cost to get a national program like that going. Is that a priority right now? Probably not. I do think that we will see more focus in the area of the environment and sustainability in the coming years with the current administration.
PW: Any words of advice for companies that want to pursue sustainable packaging?
Ventrell: Something that we always tell people here when they are getting involved in sustainability is that it does not happen overnight. It's taken us many years to get where we are today, and we have had many setbacks. What we have to remember is that what we are doing here is not so much for ourselves as for our children and their children.
Companies in this article