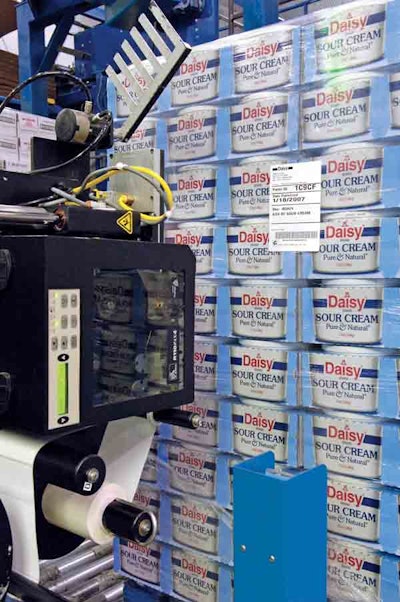 In a path familiar to many companies meeting Wal-Mart's radio-frequency identification directive, Daisy Brand, Dallas, TX, started small by manually applying tags to cases and pallets. Now the dairy products company is thinking bigger.
In its first move into automating its RFID processes, Daisy installed in mid-2006 a Model 250 print-and-apply labeler from ID Technology (www.idtechnology.com) equipped with a Zebra Technologies' (www.zebra.com) RFID R110PAX4 encoder/print engine.
At its Garland, TX plant, the labeler encodes the RFID label, verifies it, prints it, and then applies the 4"x6" smart label to a full shrink-wrapped pallet of cased product. The system operates around the clock, labeling at a rate of about three pallets per minute, according to Daisy packaging product engineer Mark Blossey.
"Our goal was to install a labeler and RFID readers so we could keep track of pallets within our warehouse and to meet the requests of some of our customers, primarily Wal-Mart, that want RFID pallet tags on the products that we send them," says Blossey. "We needed a system that would work pretty well with our pallet application."
Daisy's plan was to add RFID to its existing online palletizing and stretch wrapping operations.
Blossey says that the system was basically transparent to their existing operations, which comprises four palletizers supplying loads to one stretch wrapper. The RFID labeler is located just downstream of the stretch wrapper.
A Keyence (www.keyence.com) bar code scanner positioned ahead of the stretch wrapper reads a UPC code from a case on a pallet of product as it is conveyed. That information goes through Daisy's software to generate the RFID tag and label information. The printer is directed using Loftware (www.loftware.com) software that stores templates for the company's various trading partners, says Josh Schneider, Daisy's application development manager. Subsequently, at Daisy's data collection points, the RFID tags are read and tracked using GlobeRanger (www.globeranger.com) software.
The "license plate" RFID label from Xterprise (www.xterprise.com) is based on Gen 2 RFID technology. The tag format is serialized 96-bit Global Trade Identification Number, or SGTIN, Schneider says.
Each pallet load contains approximately 70 corrugated cases, depending on the product. The cases hold plastic containers of sour cream and related dairy products.
Although Daisy manually tags only individual cases of product destined for certain Wal-Mart distribution centers, the company tags all pallet loads for retail and foodservice markets. That strategy permits it to gain internal value from RFID.
Smart application of smart tags
The labeler operates using what ID calls a "Smart Tamp" that extends out up to 18" until it meets the pallet. The mechanism is able to instantly adapt on-the-fly to random distances.
The labeler has built-in tag verification before it prints the tag. If the tag is either unreadable or there is a defect on the antenna or the tag, the word "void" is printed on the label. A paddle-like mechanism swings up 90º to accept the bad label and then swings back down. That function has seen little use; Blossey says that Daisy has experienced very high tag quality, upwards of 99%. "I have not personally seen a tag get rejected," he reports.
Good labels are printed and applied about halfway up the pallet side. That location was selected because the plant's forklift trucks have an RFID reader-antenna on-board; the position also provides good exposure to the RFID antennae at the loading-dock doors.
Blossey says that ID Technology was selected because he had a prior history with its products, and he liked the labeler's simplicity and modularity. "If you have any kind of electronics problem at all, you just swap out the module," though Blossey says they have not had to do that. "It's been reliable and works well."
Mobile RFID
Each of eight forklifts is equipped with Alien Technology (www.alientechnology.com) RFID reader-antenna and a tablet PC. When the pallet is picked up, the PC displays the tag data so the forklift driver can confirm that it's the right tag on the right product. The forklift driver then enters the date and a lot number. The software directs the driver to the proper warehouse location among seven areas.
Blossey says they made a strategic decision to have the reader on the forklifts as opposed to a stationary RFID antenna location.
"That's mainly because of the way our warehouse is laid out," says Blossey. "We've spread out as we've expanded and there's no central place for the trucks to drive through and read the tag. The forklift-mounted RFID systems can read tags no matter where they go."
The software also directs them to the proper storage location when the pallet load is to be shipped. "When the driver retrieves the specified pallet loads, he can confirm the order from the forklift truck's PC," says Blossey. Schneider also points out that tag information and location is stored along with date and time of each tag read/transaction.
A final internal checkpoint is at shipping: Seven of Daisy's dock doors are equipped with Alien reader-antennae arrays. Daisy can reconfirm the proper order as the pallet is loaded into the truck.
Blossey indicates that their learning curve was an expected one due largely to the fact that the print-and-apply unit was the first labeler of any kind at the plant. "Everything had been preprinted before this," he says. "Plus the RFID on top of that complicated things. It helped to have supplier ID Technology located so close [in Ft. Worth]. The supplier spent quite a bit of time in the beginning helping us get started. Along with our experienced maintenance guys, that was a big help."
Internal gains
Daisy continues to use the system as it was initially set up. Unlike many packagers, Daisy has found internal value to RFID.
"RFID is a pretty valuable tool used internally to track your own inventory," says Blossey. "I think that most companies are deploying RFID to satisfy customers. But since you're are going to spend the money and resources designing and implementing the system, it's best also to use that data internally if possible."
One benefit is that their truck loading accuracy has improved, Bossey says. "We know exactly what products we're putting on a truck and know we're not loading the wrong product, so that's helped for sure."
Schneider is even more confident of accuracy for shipment: "We can't load the wrong product on a truck." Another benefit Schneider sees is in track-and-trace and inventory control such as for product on hold. "If we discover a problem on a particular line and time, we can automatically identify every one of those pallets in the warehouse and where they are. The software can even alert the forklift driver that the load is on hold and not permit him to move it. We can also promise specific products to certain customers based on their date code freshness requirements and things like that. There is no way we could do that using manual checking and manual data entry."
Blossey also sees potential in the future with a new Daisy plant breaking ground in Arizona.
"In shipping products back and forth between the two plants in the future, we'll have a better idea of which pallets are from which plant," he says.
Daisy also plans to match up the data from the case labels to the pallet labels so it will know which cases are associated with which pallet tags.
For RFID, Daisy is off to a rosy start with more benefits in store.
Companies in this article