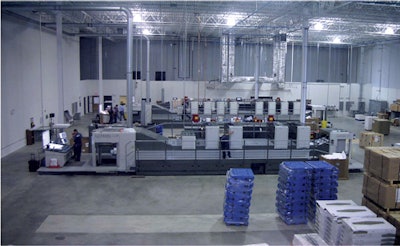 Sonopress operates 15 other replication and packaging facilities throughout the world.
The facility initially houses printing, assembly, product-display manufacturing, and packaging operations. Replication of CDs and DVDs are being added in the first half of 2006.
Sonopress and Coral Graphic Services are both members of the Germany-based Arvato/Bertelsmann family of companies. They collaborated with the objective of making the joint-venture plant efficient, secure, and targeted to time-to-market improvements. Louisville was selected because of its central U.S. location and the fact that the city is a hub for United Parcel Service shipping operations, the two companies say.
The "end-of-runway" location enables Sonopress and Coral Graphic Services to significantly reduce time-to-market delivery and freight costs, shortening the miles from production plant to initial takeoff delivery carrier point, and streamlining the supply chain process for customers, the two companies say. In addition, the plant's turnkey operation enables customers to order production, printing, and packaging without the need for sub-contracting, potential double mark-ups, and multiple vendors.
"It is estimated that 60 to 70% of sales in the video game industry occur within the first month of a title's release," notes Joe Mann-Stadt, Sonopress president and CEO. "It is absolutely critical that game publishers have an efficient supply chain to ensure that their titles are consistently available to retailers at a moment's notice. Our new facility in Louisville will enable us to produce, package, and distribute high-quality games and software in a rapid and cost-effective manner, giving our customers even more confidence that their products will be on shelves during crucial sales periods."
Significant benefit
David Liess, president and CEO of Coral Graphic Services, adds, "This partnership will be a significant benefit to the customers we serve and to both companies. Our extensive decorative capabilities and technical expertise in prepress, remote proofing, digital printing, and conventional offset and finishing, combined with Sonopress' packaging and replication services, will create an especially efficient and competitively priced solution."
To satisfy the need for speed and reliability of packaging, Sonopress and Coral Graphic Services have interconnected several islands of automation at the plant. Sonopress leveraged its own internal resources to develop an integration plan for laying out the packaging and material-handling systems. The automated packaging lines are anchored by GIMA Model 899 assembly machines, which collate the sub-assembly components for X-Box, STACKpak, and PS2 packages. CTM spine-labeling systems from York Label and CM5S wrapping systems from Ilsemann are partnered with in-line check-weighing equipment from Ishida, distributed by Heat and Control Inc.
Charles (Chuck) Prather, director of the Louisville plant operations, says, "It was crucial for us to achieve operations-efficient integration of the various automated systems. We chose all these packaging systems based on their performance capabilities, availability, and our prior experience with the equipment manufacturers. And we had no problems integrating them."
Crown Equipment Corp.'s order-pickers and lifts and Lantech's pallet-wrapping machines both handle the palletizing operations.
New automation-friendly carrying case design
Automation operations in the facility revolve around the new STACKpak CD and DVD carrying case developed and manufactured by Nexpak. The durable polypropylene STACKpak cases are similar in design to more conventional computer-game packaging. Two differences are that they are slightly wider at the spine and feature stackable hubs that can hold up to six discs. The widened cases can also hold inserts such as manuals, instruction materials, and promotional literature—all held in place by internal molded tabs. The need for additional packaging components, such as rigid internal paperboard, outer sleeves, or folding cartons, is eliminated. This helps to simplify automated packaging operations.
Sonopress is a pioneer in installing automated packaging lines for the STACKpak multiple-disc carrying cases. The company has the capacity to produce up to 100ꯠ packaged products per day on two automated lines at the Louisville facility.
Joe Mann-Stadt, president and CEO, Sonopress USA, comments, "STACKpak is one of the latest and most unique packaging solutions available for the gaming, audio, and video disc markets. The ability to automate STACKpak packaging enables our customers to utilize a packaging product that is flexible, secure, and meets the rigorous standards of their industries."
This spring, Sonopress and Coral Graphic Services plan to expand on functions at the Louisville facility to integrate media-replication capabilities. Mann-Stadt says, "At that point, we predict that customers can save up to two days on the time their products are replicated, packaged, and delivered to the marketplace. In today's highly competitive media environment, the ability to save two days in time-to-market is invaluable."
Companies in this article