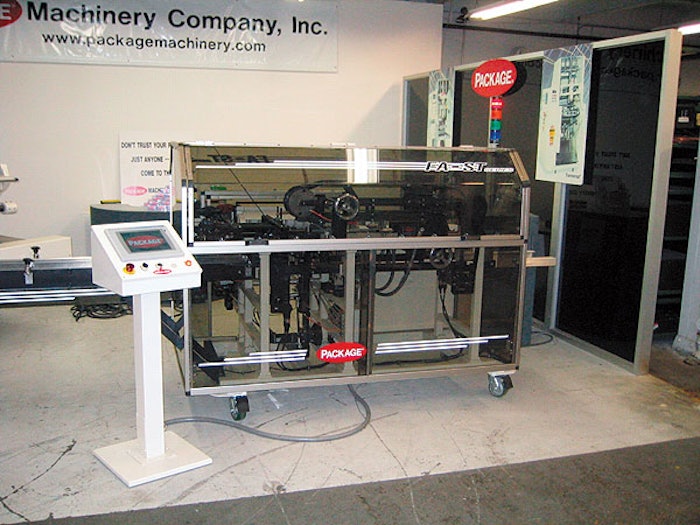 Kinetix servo drives and motors from Rockwell Automation enable users of the machine to cut changeover time from half a day to as little as 15 min according to Kevin O'Connor chief engineer with Package Machinery Company. The machine uses Rockwell's integrated motion/logic controller ControlLogix.
"With the servos we are now able to take some of the mechanical adjustments right out of the equation" O'Connor says. "The number of parts that need to be adjusted for changeover is reduced considerably."
Because of the reduction in changeover time O'Connor says that users of the machine can run a wider range of products.
"The machine itself is much more flexible" he says. "We can change cam profiles by just changing the Allen-Bradley ControlLogix software whereas on the other machine we'd physically have to change the cam."
O'Connor says there are really two different machines at work on the FA-ST overwrapper; the film feed machine and a product handling machine. The film feed machine takes a roll of film and turns it into sheets delivering that sheet to the package for wrapping. The package-handling portion of the overwrapper has an infeed an elevator a pusher mechanism and an overhead transport. O'Connor says that about 90% of the mechanical mechanisms have been eliminated in the redesigned machine.
"The other ten percent are in critical areas" he says. "We'll probably attack those in the next round."
According to O'Connor the cost of constructing the redesigned machine is less than building the older model. He says that the huge amounts of mechanical parts in the old machine added a lot to the price.
"In the new machine we use the same servo motors and gear boxes and a lot of common parts in different areas of the machine. So we've reduced the total number of different parts and increased the volume of the common parts. Mechanically the machine is very simple which helps improve the maintenance aspect. Really the expense and complication is in the electronics and the software" he says.
O'Connor chose Rockwell primarily because most of the machine builder's customers in larger plants insist on it. But he was also very happy with the faster development time enabled by the Rockwell controls package. Where it used to take a year or so to design the machine it now only takes a matter of weeks.
"Being a smaller company we really only have one solution" he says. "The ControlLogix platform from Allen-Bradley has turned out to be terrific in terms of development time. I've done several systems from the ground up where we had to develop the hardware and the technology because it wasn't yet commercially available. The Allen-Bradley ControlLogix with Kinetix drives is much more powerful than the other servo systems I made from scratch. Right off the shelf it's just super."
Companies in this article