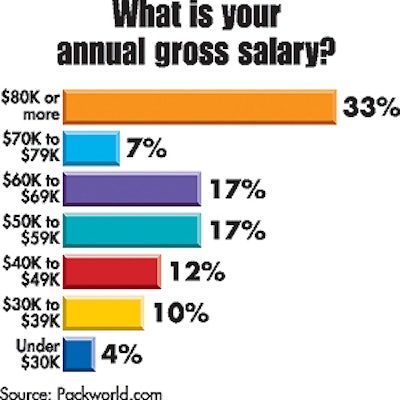 Ever wonder about the salaries and benefits enjoyed by people working for packaging suppliers? One-third of them earn at least $80ꯠ a year (see Chart 1). That's according to 92 respondents to Packaging World's salary survey conducted earlier this year on the Packworld.com Web site. Overall, salaries of supplier respondents were similar to those reported by packagers in the same survey (see packworld.com/go/c050).
To earn those incomes, 61% of supplier respondents said they worked 40 to 49 hours a week. Another 23% reported 50 to 59 hours, and 11% said they devoted at least 60 hours a week to their job. Only 5% said they worked less than 40 hours a week. Again, these numbers were comparable to those reported by packagers.
Comparing benefits
One area where survey respondents differed was in the area of benefits, where packager respondents reported a wider package of benefits more frequently than their supplier counterparts. Among the benefits mentioned more often by packagers were the following:
• Family leave (40% of packager respondents compared to 21% of supplier employees);
• Pension plans (45% packagers, 30% suppliers);
• Stock options (27% packagers, 15% suppliers);
• Life insurance (85% packagers, 74% suppliers);
• Bonus (67% packagers, 57% suppliers);
• Education reimbursement (65% packagers, 56% suppliers);
• Training for promotion (17% packagers, 10% suppliers), and
• Availability of child care (7% packagers, 1% suppliers).
Two benefits cited more frequently by supplier respondents were the use of a company car (by 19% of supplier respondents compared to 8% of packagers), and telecommuting or working from home (by 18% of suppliers; 9% packagers). Those two "advantages" make sense in that they make it more practical for supplier representatives to make sales or service calls on current or prospective customers.
Supplier respondents cited medical insurance (91%) as the most common benefit they enjoyed, followed by a 401(k) or similar plan (79%), life insurance (74%), and disability insurance (71%).
When asked about vacation time, 34% of supplier respondents enjoyed three weeks per year. The same percentage of respondents had two weeks of vacation; 18% earned four weeks; 10%, five weeks or more. Only 4% reported just one week of vacation. Those results were fairly similar to those cited by packaging respondents.
Recent changes
In the past year, supplier respondents reported rather modest salary increases (see Chart 2). In fact, a whopping 38% received no increase, whereas only 6% enjoyed a raise exceeding 10%.
Job changes in the past 12 months remained minimal, with 43% reporting no job changes. That said, 25% noted they had added more responsibilities without more pay, a lament common among packagers in all three of PW's salary surveys, conducted in 2002, 2000, and 1997. Almost 15% of supplier respondents changed jobs or switched to a new company. There was good news for 8% of respondents who reported they received a job promotion. On the flip side, packaging-related budget cuts were noted by 6% of respondents; 4% said that their companies had experienced packaging-related staff cuts.
Additionally, 25% of supplier respondents' firms were involved in a merger in the past year. Some respondents noted that mergers had little effect on their personal responsibilities, though a few others reported that mergers had resulted in the loss of a packaging job. One respondent said a recent merger made it "easier to do my job now, [resulting in fewer] constraints on my resources."
When asked what they'd like to devote more time to if they could, the majority of supplier respondents said planning for the future (29%). Keeping current with technologies and training were also frequently mentioned.
Discussing job satisfaction
Like their end-user counterparts, supplier respondents gained the most job satisfaction from decision-making autonomy (35%). Salary, advancement potential, and company appreciation were also considered important (see Chart 3).
Like packagers, supplier respondents were more than willing to discuss which packaging-related responsibilities they found least satisfying. A marketing representative with a company that makes labeling equipment identified "having to compete on certain commodity products" as a problem. "Once a material becomes a commodity, price becomes the biggest [competitive] factor. It is more satisfying to sell a product because it is better, not cheaper."
An R&D person with a materials and machinery supplier found that "a lack of direct performance-[related] compensation was [hardly] motivating."
A marketer with a company in the Northeast noted, "I greatly appreciate the fact that I can work as hard and as much as I like. The downside is the time available for sales calls. Follow-up work on projects is time-consuming, and getting accurate information from customers and manufacturers alike is at times painstaking."
A respondent with a midwestern vendor complained about traveling through airports. He also said, "I don't like working with companies that are using the e-business auctions. It takes away the personal side, the expertise of our company, and it removes the personality of the company and the individuals that have made our products work for companies for many years."
Another representative of an equipment supplier in the Midwest had a similar beef about "responding to inquiries that come from our Web site. Most inquiries from the Internet are not valid inquiries that are looking for our specific type of machinery. But [they] all need to be followed up."
A supplier's representative, again in the Midwest, complained about "customers changing their minds and cancelling projects due to their poor marketing."
Job loss caused some consternation for an engineer with a maker of cartoning and packaging machinery. He lamented, "We have recently gone through two periods of downsizing and have been given duties that were previously assigned to employees that were terminated."
Fortunately, some supplier respondents focused on their satisfaction. "The ability to see you are effecting change," "designing," "customer appreciation," "working on projects that are able to make it to the consumer," "commissions," "interaction with clients," "interesting industry," "diversity," "career growth and learning," and the "ability to become financially independent" were among the factors that provided supplier respondents with the greatest job satisfaction.