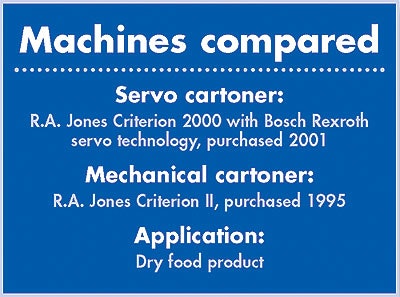 Suppliers and advocates of servo controls have contended for years that packaging machinery designed from the ground up around servo technology (so-called third-generation servo-driven equipment) is cheaper, better, and faster than all-mechanical alternatives. However, simply adding servos to an otherwise-unchanged mechanical design does not add much value, many users have found.
The users group known as OMAC (Open Modular Architecture Controls) Packaging Workgroup, in seeking to document the advantages of servo over mechanical designs, has conducted its first thorough financial comparison of the two types of machines. The comparison was conducted by a real end user based on actual in-plant experience. Both the old and new machines were manufactured by the same supplier—in this case, R.A. Jones. Because the numbers are extremely sensitive, the company that conducted this analysis agreed to participate in OMAC's study only on the condition that the company's name not be published.
Normally Packaging World does not publish anonymous stories. But we have made an exception for OMAC because other end-user members (Hershey, Procter & Gamble, and Unilever) thoroughly studied and questioned these numbers. In fact, some numbers in this analysis sparked considerable debate within OMAC.
And there remain differences of opinion in this group as to how scalable and transferable some of the numbers are, because each user's situation is different. But in the end, as believers in servo technology, the users listed below feel that what's presented here is reasonable and consistent with what they've seen or believe is possible with third-generation servo-driven packaging machinery.
See sidebar to this article: Reviewed by OMAC
To download the spreadsheet that contains this entire analysis in detailed form, visit: packworld.com/go/w028