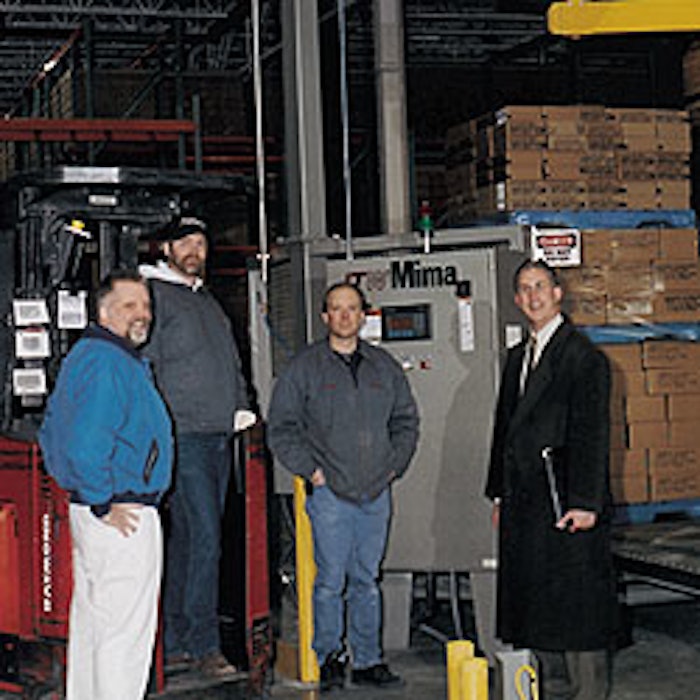 Out with the old, in with the new. That's a common refrain for packagers wanting to improve with the tried-and-true method of switching out old machinery for new. Problem was, personnel at Sargento Foods, Plymouth, WI, really liked their old stretch wrapper and didn't want to part with it.
Who could blame them? In wrapping more than 500ꯠ pallet loads since '94, the old machinery had experienced no downtime aside from regular maintenance, according to Jay Nolte, Sargento distribution center manager. Yet, last year, personnel knew they needed more output than its current equipment could provide.
The addition of an ITW Mima "King Cobra" stretch wrapper last December enabled the cheese packager to keep the old wrapper while stretching its capacity with the new. Sourced through regional distributor Packaging Systems of Wisconsin (Sheboygan, WI), the stretch wrapper arrived with several custom options:
• An extended outfeed allows as many as three forklift trucks to remove loads during peak times
• Longer range photo sensors on the outfeed sections track and control pallet flow
• A 104''-tall mast allows wrapping of loads two pallets high
• The "cold pack" option adapts the machinery to the refrigerated room temperatures needed.
Faster, and saves film
One major improvement is in speed. While Sargento declines to identify the specific rate, the company does disclose that output on the new system is 30% greater than on the old. The new ITW Mima system is capable of 75 pallet loads/hr.
Another major advantage is the dramatic improvement in film savings. While the old system prestretches film 150%, the new one prestretches film 250%. For a firm like Sargento, which runs its stretch wrappers 310 days a year for two 10-hour shifts per workday, the cost saving is considerable, although Sargento cannot quantify it. Relatedly, PSW is currently upgrading the old system with new gearing to prestretch film up to the maximum of 200%.
Sargento wanted the same stretch wrapper as the old, only with more "bells and whistles," says Craig Lubenow, PSW regional manager.
The stretch wrapper is set up as a stand-alone unit. It has a standard 5' infeed section leading to the standard 11'-long stretch-wrapping section. On the outfeed side, though, Sargento added four 5' sections to the standard 5' outfeed. The added length permits as many as three forklift trucks to remove completed loads simultaneously. This helps increase throughput at peak times. The system uses nine Allen-Bradley photo sensors from Rockwell Automation (Milwaukee, WI) to track pallet positioning.
Forklift trucks place manually palletized loads onto the infeed. The pallets index into position, and the wrap sequence begins. Pallets are wrapped from the bottom up using a three-layer, 70-ga cast polyethylene film, also from ITW Mima and distributed through PSW.
The revolving carriage design mimics what Sargento had had before, which allows taller, unstable loads to be wrapped, instead of having a rotary turntable design in which the load rotates. Sargento wraps loads that are up to 98'' high.
A competitive visit
Lubenow saw to it that Sargento got exactly what it wanted...and more. For one thing, he arranged a visit by Sargento personnel to Masters Gallery Foods Inc., a competitor cheese packer with a plant in Plymouth, to see a similar stretch wrapper in operation. Unlike the brand recognition of Sargento, Masters Gallery specializes in private-label packaging.
Nolte characterizes the local in-plant visit as helpful. "It's always nice to see something up and running," he relates. "It was a smaller model and didn't have the outfeed setup of ours, but it gave us a good idea about the main piece of equipment." Nolte adds that it was especially invaluable for their mechanic, Rob Schmitt, to view it, in order to get a better feel for how the stretch wrapper operates.
"We always try to get the customer in to see a real installation, not just a videotape or a trade show viewing where it wraps the same product over and over," explains Lubenow.
Another value-added service that Sargento appreciated was that the distributor's three-day installation also included "thorough" training. Rather than getting a lightning-fast one-day installation-and-training package, Sargento personnel were trained over the course of about a day and a half. "That helps," Nolte tells Packaging World. "While there's always some kind of training for a start-up, [the distributor] did a great job." Nolte says about 30 Sargento employees were trained, including maintenance, electrical, and forklift operators.
The installation and training were conducted by general manager Bob Schley of Packaging Systems of Indiana (Lafayette, IN), a sister company of PSW.
"We see this as part of our responsibility to our customer," says Lubenow. "We don't want operators asking 'What do we do now?' when they're left on their own. Otherwise, you end up teaching them later what they should have been taught at the first."
For Sargento, the successful start-up completed an exemplary experience. "It's a great wrapper," Nolte concludes. "It feels like we got the best of everything, the old and the new."
Companies in this article