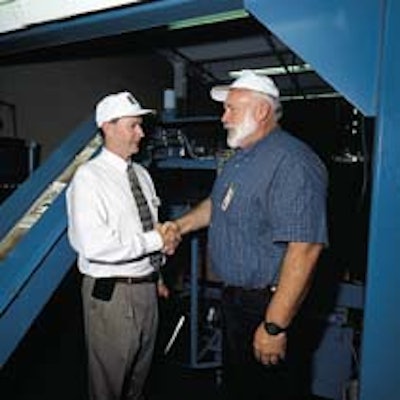 Boyd Coffee Co. owes a lot to the state government of Oregon for its new case packer. Specifically, there was the $137ꯠ in grant money. It covered the costs of machinery development through start-up, including integrating the new system with upstream and downstream equipment. Boyd was required to chip in with a 10% match.
The funding was generated by Salem, OR-based Oregon OSHA's (OR-OSHA) Worksite Redesign program via the "Worker Benefit Fund," an assessment paid by both Oregon employers and employees. So says Alice Dryden of OR-OSHA, who oversees the grant program.
She explains that grant applications can be submitted by an Oregon employer, educational group, employee group, union or association that has a problem with a safety, health or ergonomic issue in the workplace.
There are several types of grants available, with maximums of $50ꯠ for research, $100ꯠ for development or, as in Boyd's case packing project, up to $150ꯠ for R&D. The program's budget for the current year and foreseeable future is $3.5 million, Packaging World is told. Dryden says this is the first grant made for a packaging machine since the program was established around '95.
The procedure to receive a grant is to submit an application that is assessed by a six-member panel. The once onerous application process has been improved, notes Jerry Vawter, Boyd Coffee's production manager who oversaw the project.
One of the grant's key requirements is that "it cannot displace workers," OR-OSHA says.
The application review assessed the company's previous injury claims (Boyd had two confirmed cases of surgery for carpal tunnel syndrome, for example); injury claims for that type of job and the potential for further use of the development. Boyd's application was approved in February '98.
Available to others
With an approved product grant application, an Oregon company could purchase a machine like Boyds' "at a [government] subsidized price," Dryden notes. Based on personal contacts, Vawter has provided OR-OSHA with a list of companies potentially interested.
Oregon's program seems rare. Dryden says Washington state has initiated a similar program, apparently using Oregon's version as a guide. Dryden is aware of only one other state, North Carolina, that uses a program. Canada also has a similar initiative, she adds.
Oregon's program evolved from worksite redesign legislation for injured workers that bureaucrats wanted to be more proactive. "We take a proactive approach to redesigning the whole work area before more injuries can occur," says Dryden. she says OR-OSHA currently has made 35 to 40 grants in various industries. And one it is looking at is "a packaging-type operation".
On a visit to view Boyd's case packer in operation, Dryden, who was familiar with the manual setup before, says "it was amazing to see the difference.
"I'd love to talk to people to see if we can get this type of program into more widespread use. It only protects more workers," she says. She can be reached directly by phone at 503/947-7448.
See the main story that goes with this sidebar: Government funds casing upgrade at Boyd Coffee
Companies in this article