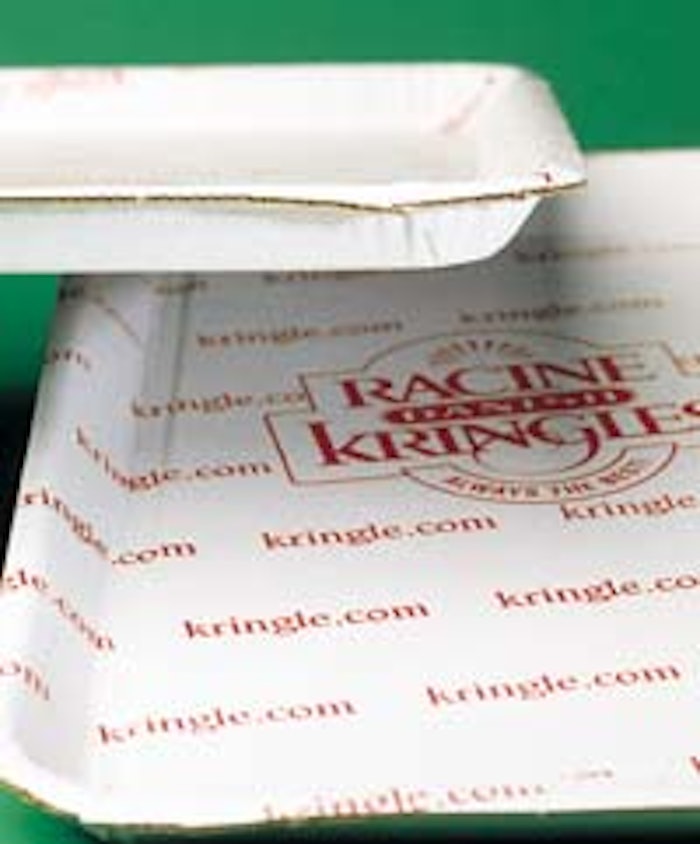 Racine Danish Kringles® of Racine, WI, a specialty baker of pastries known as kringles, is the first company to use a newly developed thermoformed corrugated tray commercially.
RDK began using the tray for its 22-oz kringles last autumn, according to owner/president Michael Heyer. Measuring 12"x16" and 7/8" deep, the tray replaced an expanded polystyrene predecessor.
The new trays are made by NaturePak (Sheboygan, WI) on proprietary thermoforming equipment designed specifically for corrugated board (see sidebar). NaturePak's "Corru" tray is 200#-test, E-flute with white linerboard on both sides of the fluting. Both liners on the 42-33-42 board receive a grease-resistant coating that provides a barrier to withstand staining from the high butterfat content in the kringles.
The oval-shaped kringles in their rectangular trays are overwrapped in Cryovac's (Duncan, SC) D9-40 film before passing through a shrink tunnel. Before overwrapping, a paperboard collar is positioned into the area surrounded by the kringle. The collar extends above the frosted pastry to avoid product damage during downstream storage and distribution.
Search leads to switch
Heyer cites three reasons for RDK's switch to the corrugated trays: recyclability, graphics and strength. "We changed trays mainly for environmental reasons," he says. "In the old days, [EPS vendors] would tell you EPS was recyclable. Well, just try to find someone to recycle it." Heyer believes the corrugated tray is more likely to be thrown into the consumer's paper recyclables rather than into the regular refuse.
For a small business with a limited advertising budget, the new trays provide another important advantage over EPS trays. "With the new trays, we can have messages direct-printed on them, something that wasn't possible with the expanded polystyrene," states Heyer. "Initially, we had the bottom liner printed with our kringle.com Web address. Now we're changing that so that the top liner, on which the product sits, is printed. That's the side the consumer sees most often."
RDK's owner tells Packaging World that he is leaning toward having both liners direct-printed. He also plans to develop about a half-dozen different messages to use in repeating patterns on the liners.
The third advantage of the new tray, strength, is immediately apparent. "The old tray was somewhat brittle, and we had some breakage problems with it," Heyer admits. "This tray is much stronger. For all practical purposes it's unbreakable."
Not surprisingly, the new tray comes at a higher price than EPS. Heyer says a 100-count case of the EPS trays was $20.38, less than the $23 for the same number of thermoformed corrugated trays.
Despite the upcharge, Heyer is glad he made the change. "It's worth it just from the additional advertising we get from the printed liner. But I'm willing to eat the extra cost for the environmental gain this tray gives us. My belief is that the Earth is our Grandmother. The better we take care of her, the better she takes care of us."
Manual packaging
RDK orders the trays from NaturePak. Each tray holds one kringle. Kringles are hand-frosted and then brought on racks to one of two packaging areas. The main in-line operation accommodates the bulk of the orders while a second operation is used primarily to make gift packs. The main line usually runs one shift/day, five days/week. From October through January, and during the Easter season, demand merits a two-shift operation. Both lines use a combination Shanklin (Ayer, MA) shrink wrapper and Eastey (Rogers, MN) heat tunnel.
An automatic Auto Labe (Ft. Pierce, FL) pressure-sensitive label printer/applicator uses two heads to print and apply two labels to the shrink-wrapped pack. The label for the top is preprinted with RDK's name and logo in red. The Auto Labe direct-thermal-prints the flavor, a toll-free number for fund-raising orders and a calendar used by retailers to determine a pull date. Applied from below the tray, the bottom label is printed with a bar code and nutrition/ingredients statement.
For 22-oz kringles, RDK operators place 12 wrapped, labeled pastries into a shipping case, which includes two each of six different flavors. Currently, the firm makes 23 flavors. Heyer considers the kringles a "freeze-and-thaw" product. Once they're manually case-packed, palletized and stretch-wrapped, they're stored in a freezer briefly at RDK. Common carrier trucks distribute frozen kringles to retail markets. Brokers train retail bakery managers about this "slacking off" process, and how to circle a pull date on the front label calendar about five days from the date they remove it from the freezer. Once removed from a frozen state, the pastries have a five- to seven-day shelf life, depending on the variety. Kringles are then positioned on a custom-made wooden display rack for store sales.
Well-received tray
"Since we switched to the tray our sales have increased, though it's tough to gauge what amount of our sales growth is attributable to the tray," Heyer says. He indicates last year's sales reached $3.4 million, all of which came from kringles.
Retail sales, while limited to the Midwest, account for 58% of sales. The balance of the kringles are sold nationwide, with fund-raising representing 23% of sales and catalog orders 19%. The 22-oz version sells for around $4.79.
"We specialize in kringles, which are marketed as a separate category by the stores. And this new tray provides us with competitive differentiation," says Heyer.
So much so that recently he fielded a call from a person claiming to be a caterer who "loved the tray" and wanted to know where to buy it. Trusting the caller, Heyer obliged, only to find out the caller contacted NaturePak and admitted to being another kringle manufacturer. Because Heyer and NaturePak worked closely together to develop the tray, the supplier turned down the opportunity to do business with the RDK competitor.
Heyer realizes the market advantage provided by the unique tray won't last forever, but for now his company is benefiting from it. In fact, now in test is a tray designed to fit RDK's 14-oz kringles, which sell for about $3.89. "The minute NaturePak introduced this tray idea, I wanted it," he recalls. Heyer has also received favorable responses from retail customers who express both delight and curiosity with the tray. "Only now, if they ask where to buy it, I make sure to find out who they are first," he declares.
See sidebar to this article: Corrugated thermoforming goes commercial
Companies in this article