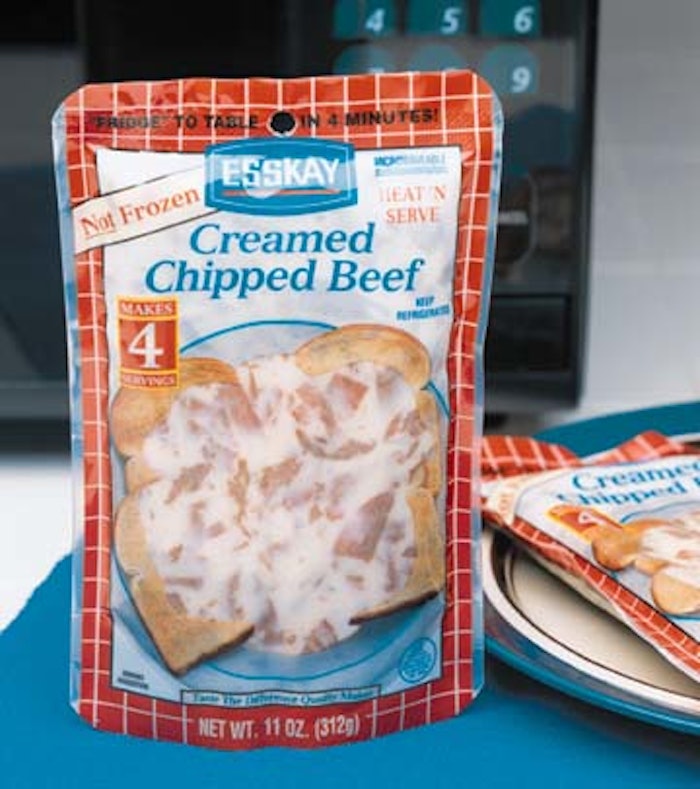 Retorted pouches for food sold in both retail and foodservice environments could represent the next breakthrough in flexible packaging. In January, Quakertown, PA-based E.W. Knauss & Son introduced Knauss Creamed Chipped Beef in a stand-up retorted pouch. That offering is now competing with Esskay's Creamed Chipped Beef (below left), also packed in a stand-up retort pouch. Esskay, part of Gwaltney of Smithfield, Ltd., Smithfield, VA, launched its product last year.
The two products are competing in Eastern U.S. supermarkets. Both are reportedly packed by the same contract packager, in the same pouch structure, and in the same 11-oz size.
These new pouches for food follow the April '99 introduction by Kal Kan Foods of Whiskas Homestyle Favorites™ wet cat food (see Packaging World, Aug. '99, p. 83, or packworld.com/go/whiskas). The Vernon, CA, company uses a laminated foil structure that helps provide a two-year shelf life for that retorted pouch-packed product.
Extended shelf life is a primary benefit when food is processed (sterilized) by heat and pressure in a retort chamber or vessel. Retort cooking of foods is usually done for rigid containers. The flatter profile of a flexible pouch allows it to be retorted in less time than is typically needed for cylindrical cans. Less time in a retort can mean less cooking for a firmer, less mushy product. For end users, the pouch is easy to handle, open and empty product to be reheated on the stovetop, or in some cases, a microwave.
Most retortable pouches incorporate foil into a multilayer structure to withstand the heat and pressure of the retort cooking chamber used to kill bacteria and provide the product inside with extended shelf life. But in the case of the two creamed chipped beef packs, no foil is used.
Instead, the strength and barrier properties are imparted by a 5 ?-mil structure that includes polyester/ink/proprietary adhesive/nylon/proprietary sealant. The polyester is reverse-printed by gravure in seven colors. The material is reportedly laminated, printed and fabricated into pouches by The Pyramid Group (La Habra, CA). That supplier says that the proprietary adhesive, polyester and nylon combine to provide an oxygen barrier. Empty pouches are shipped to a contract packager for filling and sealing.
Retail benefits
While neither Knauss nor Esskay would confirm packaging details, they did share some marketing insights about the new pouches. "It's a brand new [package] for us," says John Montmore, marketing manager at E.W. Knauss. The retorted pouch has a 90-day shelf life and replaces a nonretortable pouch. Curiously, that was an unprinted, stand-up pouch sold in a printed folding carton.
He says the graphics potential of a printed pouch swayed the company to select it. Of course, the change means that Knauss no longer has to purchase a carton for the product. The stand-up pouch, which Montmore says would be introduced in January, will retail for $2.99 at grocery stores in Baltimore, Washington, Philadelphia and New York markets.
Like its predecessor, the new version is sold in the refrigerated case. Based on our discussions with Esskay, Knauss and The Pyramid Group, shelf life of these pouches is longer if the pack is kept refrigerated. "In stores, we sell it next to packs of bacon and bologna in the refrigerated meat case," says Montmore. That merchandising decision makes sense because that's where consumers could find Knauss's previous precooked creamed chip beef offering.
Montmore points out that Knauss also sells chipped beef by itself in a glass jar that consumers can use to make creamed chip beef at home. "But the current trend for busy consumers is toward convenient, prepared foods, and this package [targets] the home meal replacement market."
The package serves the same marketing functions for Esskay. Representatives from both Esskay and Knauss whom we spoke with tell us their packs are sold in the refrigerated case and have a 90-day shelf life.
As this issue goes to press, Esskay has declined to discuss its package, other than to say it has proven popular so far in its Eastern U.S. retail markets.
Foodservice, too
StarKist Seafood, the Newport, KY, affilliate of H. J. Heinz, demonstrates that retortable pouches are also an option in foodservice applications. Last May, StarKist began selling a 2-lb, 11-oz flat pouch containing Albacore tuna to fast food outlets, including Subway and Blimpie's. It's also sold to sit-down restaurants who use the product in making tuna salad. The Albacore version followed the '98 introduction of Chunk Light Tuna in the same size and package.
The Pyramid Group supplies both pouches, which provide an 18-month shelf life. StarKist would not divulge the material specifications, but did reveal that the pouches are packed at a StarKist facility in Ecuador on new Japanese sealing equipment, then retorted on a new FMC (Homer City, PA) retort system.
Measuring about 9"Wx12?"L, the pouches, "didn't replace any other package," says Michael Mullen, a company spokesperson. "They're an alternative to a number 10 steel can that we use for four pounds of tuna."
Mullen says StarKist added the pouch to meet customer requests. "In the foodservice market, they have to open a can and drain the broth out of the product before using it. The draining was an extra step for them," he explains. "Our customers were asking for an alternative, so we developed this pouch, which allows the product to be used immediately."
For Chunk Light Tuna, there's no need for draining. For the Albacore Premium White Tuna, there's minimal draining. "We need to add some moisture to the Albacore to protect it," says Mullen. Pouches require less draining than cans, "because of the longer time in the retort that cans require," he says. "To avoid scorching the tuna, we have to add more broth or water in a can than in a retorted pouch."
The easy-drain advantage is touted on the Albacore tuna package's graphics. Gravure-printed in seven colors, a circular violator reads: "E-Z Drain, No Waste," with the words "LaborSaver™" bisecting the circle. The violator on the Chunk Light variety says, "No Drain." A tear notch and opening instruction are positioned at the top of both pouch varieties.
It's the colorful serving suggestion, particularly the graphic on the new Albacore tuna pack, that stand out. Why create pouch graphics suitable for retail on a foodservice pack? Mullen responds: "It's a cutting-edge package and we wanted to illustrate the high quality of the pouch and the product. We have also upgraded our foodservice can graphics so they're consistent with the retort pouch."
Mullen believes the "most important advantage is that the product in the pouch is of a higher quality and better tasting [than tuna in the can] because of the process. With the [flat] pouch, we only have to retort it for 45 minutes, versus four hours in a can, to kill off bacteria."
As for the economics, he says, "there isn't a huge difference in the cost of the pouch or can to us, or to our customers. The difference is the [improved] quality product we can deliver to the customer."
So far, customer response has been strong. "Since we introduced the products, our sales have risen dramatically," says Mullen "They've easily beaten our sales expectations. Customers like the the pouch's 'uncanny' quality and ease of use." He adds that the pouch has not had an adverse effect on can sales, either. "We've increased our volume overall by bringing out the new package." Mullen says the company is also considering a retortable pouch for tuna sold at retail.
Retort 'veterans'
While confidentiality agreements prevent our sources from divulging the names of food manufacturers they believe will introduce food in retort pouches this year, PW did learn that these products will most likely include stews, soups, refried beans, tuna, chipped beef, meat sauces and gravies.
Three companies that expect to develop new products in retort pouches this year that did talk are Preferred Brands Intl., Old Greenwich, CT; E-Fish-Ent Fish Co., Sooke, British Columbia, Canada; and SeaBear Co., Anacortes, WA. All three use the pouches for specialty foods.
John King, Preferred Brands' national sales manager, says that the company has imported its Tasty Bite™ line of Indian entrees in foil-based retort pouches since 1990. These pouches are printed with a logo and usage instructions. A serving suggestion and more colorful graphics are saved for a paperboard carton that contains the pouch.
In 1998, the company introduced Thai Table™, a shelf-stable line of Thai products in retort pouches. These too are packed in India, "in premade pouches we buy from suppliers in Japan or Korea," King explains.
According to Kartik Kilachand, a director/owner with the company, the pouch structure for both product lines is the same. From the inside-out, it includes polypropylene/aluminum foil/nylon/polyester.
The products retail for $2.59 to $3.69 and are sold primarily in Western and Eastern U.S. markets. Presently, Kilachand estimates that 80% of sales are in natural and health food stores, 20% sold in mainstream grocery stores.
He says, "The premium natural stores are taking away the top customers from the Lucky's and Safeways of the world. As a result, it's forcing those [mainstream grocery stores] to try to bring those customers back into their stores. The whole focus of our growth now is moving into mainstream stores—not the low-end stores, but more to the 'top-tier' stores."
As this issue goes to press, King says that Dominick's in the Chicago area was making a decision on carrying the product lines. Fred Meyer and Ralph's are among the stores on the West Coast that carry these products, notes Kilachand. King adds, "We expect to add to our Thai line in the next six months." These retorted pouches, he says, will likely be packed by the same process and with the same materials as are the current products.
Packaging of the product is discussed on the company's Web site: "Products come in the unique retort pouch packaging that ensures that the food is safe, retains its just-cooked taste and uses no chemicals or preservatives. The retort pouch requires no refrigeration. An unopened pack can sit on your pantry shelf for up to 18 months without refrigeration."
Retorts for fish
At E-Fish-Ent, a small fish processor, retort pouches for smoked salmon have been marketed to brokers for the retail grocery business for about six years. Like Preferred Brands, E-Fish-Ent relies on a firm in Japan, in this instance, Dainippon, for the 5 ?-mil structure. The premade pouches are sourced through broker Ise U.S.A. (Oak Harbor, WA). From the outside-in, the structure includes polyester/aluminum foil/oriented nylon/PP sealant.
Bryan Mooney, E-Fish-Ent's CEO, says the salmon is marketed as a gourmet product at grocery stores, gift outlets and camping outfitters. Typical prices (Canadian) are $10 for a 4-oz size, $16 for an 8-oz pack and $24 for a 16-oz version.
Mooney says that the smoking process helps "firm up" the fish so that it doesn't degrade during the retort process. "It doesn't break apart or crumble into tiny pieces from the retort process. The product looks like smoked fish does in a can.
"The pouches provide us with a five-year shelf life [unopened] and we're looking into using pouches to introduce new seafood products with sauces later this year."
At some point this year, SeaBear hopes to expand on its two products in retort pouches. One is 12-oz Smokehouse Salmon Chowder™, the other a 16-oz Smokehouse Salmon Chili™. Introduced in '97, these stand-up pouches are filled by Stockpot Soups, Redmond, WA, according to Jeff Kyle, SeaBear's smokehouse manager. Pouches are then sent back to SeaBear for retorting.
The pouches, also from Ise U.S.A., use the same material structure used by E-Fish-Ent. But while that pouch is typically unprinted (labels are applied in some instances), SeaBear's pouches are printed in five colors.
Kyle says the products sell for $4.95 at mainstream grocery stores, gift shops and airport outlets. "Most of our sales are now in the Northwest, though we have some brokers on the East Coast. We're finding that most stores market these packs on shelves [where they're not refrigerated], though some sell them in the refrigerated case with seafood products." Kyle adds that national distribution of the product is a goal.
Retort's past
According to The Wiley Encyclopedia of Packaging Technology, the retortable pouch concept dates back to the 1940s. The Apollo space program also helped launch the pack. About 20 years ago, some experts in the packaging community believed that retort pouches would become de rigeur. But they didn't.
One problem then was that equipment wasn't readily available that could produce pouches at the speeds necessary to make them economically attractive to manufacturers considering a switch to pouches from cans. And compared to more common food containers, retort pouch forming, filling and sealing technology was also lacking. Add to that handling, case packing and merchandising concerns, and it's understandable why such pouches didn't proliferate at retail.
Where retorted food pouches did gain acceptance was for military field rations called meals-ready-to-eat (MRE). MREs are used not only by the military, but also to help feed people in emergency or disaster situations. Outdoor enthusiasts can also find them at select stores that cater to hikers, campers, etc. But unlike MREs, the retort pouches coming to market now are targeted for grocery store sales, as well as for foodservice applications.
It remains to be seen whether U.S. consumers will embrace foods packed in retort pouches as much as their counterparts apparently have in Asia and Europe. But based on the inroads nonretort pouches have made in the U.S. for other food products, it would seem that retorted food pouches stand a better chance to succeed today than they did 20 years ago.
In a hurry? Request more info via Web-based reader service by clicking on company name.
Or you can jump right to their Web site if it's listed.
Companies in this article