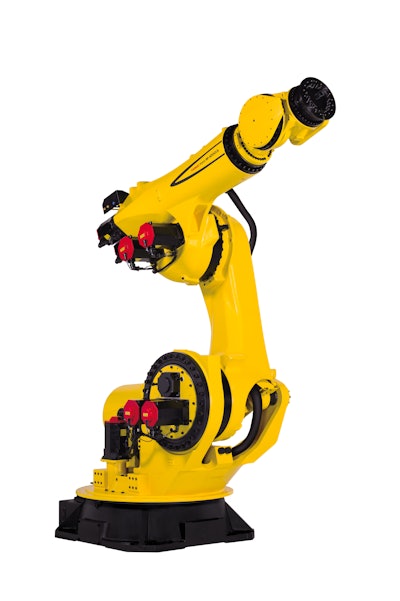 This content was written and submitted by the supplier. It has only been modified to comply with this publication's space and style.
Robot can handle products such as automotive components, construction materials, and battery packs for electric vehicles.
Fanuc's M-1000iA's serial-link construction gives the robot a wider range of motion in every direction. It can extend its arm upright or rotate it backwards, which is not possible for typical heavy-payload robots with a parallel-link mechanism.
"The new M-1000iA is Fanuc's largest serial-link robot to date," said Eric Potter, general manager of Fanuc America's General Industries and Automotive Segment. "Customers that process very heavy parts need more versatility in the workspace, and this robot is a great solution for a variety of applications such as drilling and handling large automotive components, processing and handling battery packs for electric vehicles, fabrication and handling of construction materials, and much more."
Powered by the Fanuc R-30iB Plus Controller, the M-1000iA offers the same intelligence and reliability that FANUC robots are known for, including integrated iRVision®, force sensing, and Zero Down Time (ZDT).
Features and Benefits include:
• 1000 kg maximum payload with full articulation.
• Biggest serial link FANUC robot without J3 link interference.
• Wide J3 axis motion range in vertical and horizontal direction.
• Smooth serial-link design allows back-flip operation on the J3 axis for maximum flexibility.
• Strong wrist with high payload, moment and inertia.
• Dual motors on J2/J3 axis to support heavy payload at large offsets from wrist and at full extension.
• Clean design with internal cables minimizes interference with peripheral devices.
• Several common parts with M-2000iA robot provides proven and reliable performance while minimizing spare parts inventory for existing customers.
• IP67 wrist and J3 arm rating for harsh environments.
Fanuc will begin shipping production units of the new M-1000iA in Q1 2022.
Companies in this article