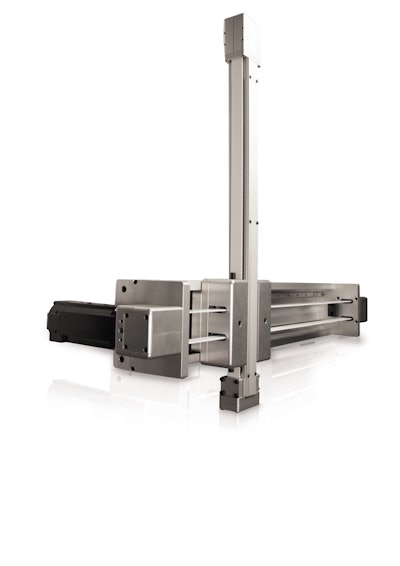 An optimal solution for applications that require X-Y or X-Z distance, high-speed motion with a robust load and moment loading capacity, IntelliAxis is ideally configured for pick-and-place, sorting, loading, assembly, and other material handling tasks in industries such as packaging, food and beverage and automotive. It is intended for medium and heavy-duty two-axis industrial applications that require flexible motion within a two-dimensional plane.
Employing a one-of-a-kind two-axis system, the unit features a single continuous belt that serpentines around the two axes, eliminating the need for a motor in the Z- or Y-axis while driving a pair of coordinated motors in the X-axis. These configurations, known as T-bot and H-bot within the industry, permit synchronized control for complex motion movement profiles such as circles, ellipses and sine waves.
The complete system provides distinct advantages over traditional linear actuator-based systems. The durable pair of motors for the X-axis offer high thrust and high speeds, while the single belt system means less overall Z-axis load and reduced X-axis motor size.
Companies in this article