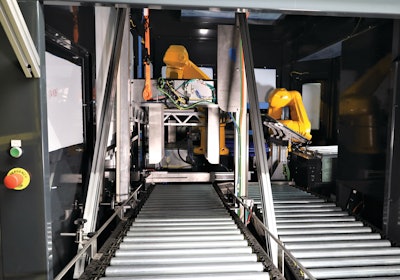 In the area of secondary packaging operations, robots are playing a key role in driving new levels of efficiency and speed that help manufacturers manage production costs and increase throughput. According to a new report from PMMI – The Association for Packaging and Processing Technologies, titled, "2022 Robots and Cobots An Automated Future," 46% of those interviewed currently use robots for secondary packaging processes, and that number is expected to grow to 52% over the next five years.
Shared a director of manufacturing for a large food company, "We are adding robots to our case-packing and palletizing applications on three more lines—all 10 will now be fully robotic."
Also interviewed for the report, a plant manager for an SME (small and mid-sized enterprise) food manufacturer, said, "Three years ago, we didn't have any robots, and now we operate robotics on two lines for pick-and-place case packing, and we're considering adding a pick-and-place robot for case forming."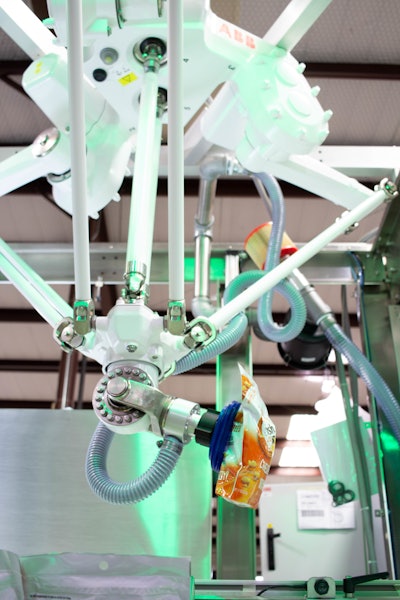 As a result of CPG's interest in robotic case-packing solutions, OEMs are answering the call with new equipment that allows for flexibility and accuracy. Recently introduced from Fallas is the Visibot-LV, which incorporates an ABB IRB-390 Flexpacker delta robot in a Fallas Adabot frame. The robot has a 15-kg payload, which allows it to handle a wide range of products. Specifically recommended by the company is its use for packing club-store cases. The Adabot's stainless steel frame also makes it food-safe and easy to clean.
According to Fallas, the robot's fifth axis allows it to rotate at the point of EOAT, no matter what the product orientation is, and AI-enabled vision systems allow the Visibot-LV to pick and place directly into the case. The vision system, combined with the multi-lane conveyor, eliminates the need for orientation systems upstream.
---
---
Fallas provides the machine as part of a full case-packing system, which begins with a Fallas-integrated conveyor system that picks up finished product at the bagger, sealer, wrapper, or other primary packaging machine. Shipper cases are erected by a Fallas case erector or former, then sent through the Visibot-LV. The case conveyor then tilts upward, allowing the robot to reach and pack the product vertically, in a shelf-ready format. The Visibot-LV can be configured to pack products in a layflat orientation, as well. The loaded cases then exit the case packer, where they are sealed by a Fallas case sealer, ready to be palletized and shipped.
Ensuring the system's longevity are integrated next-generation IIoT solutions. With remote connectivity enabled, Fallas technicians can perform quick programming updates, as well as alert the operator to predictive maintenance tasks to avoid unplanned downtime.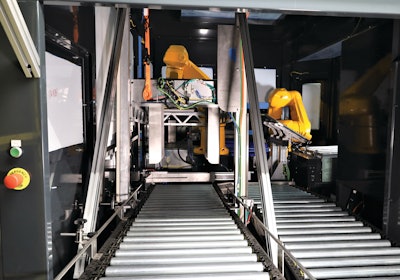 From Muller Technology is a solution that pairs a six-axis delta case-packing robot equipped with vacuum EOAT with molding or thermoform machines for lid and container packaging, as well as blow-molded packaging. Says Muller, the solution offers higher cavitation for the manufacture of blow-molded bottles and thermoformed packaging, handling up to 64 cavities every 6 sec for lids and 5-sec cycles for containers. The new case packer also offers portability and quick part changeover for different size configurations. It comes with external guarding and is equipped with all the latest safety features.
---
---
The case packer can be purchased separately or integrated into an automation line such as Muller's M-Line, a new integrated robotic and automation system for the production of injection-molded packaging. The basic model of the six-axis case packer can operate as a standalone, placed at the end of an injection-molding or thermoforming machine, or tied to an in-mold labeling (IML) automation system.

---
---
Companies in this article