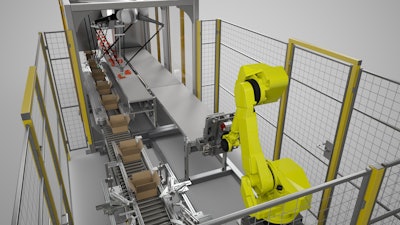 One of the most popular applications for robots in the CPG packaging environment is case packing. Today, with retail and other customers demanding a constantly growing range of case sizes, styles, and counts, including new formats such as retail-ready and reusable packaging, robots offer the speed, flexibility, and accuracy required.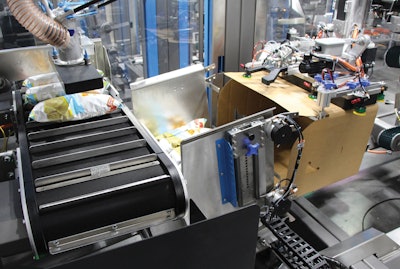 One such system, the Spider 200i, from BluePrint Automation (BPA), has been designed to allow end users to vertically case pack, close, and seal packages into standard RSC or reusable cases on the same machine. Engineered specifically for the snack industry, the Spider 200i uses a multi-axis robot to pick snack bags on-the-fly and vertically case pack them into a cassette that forms a vertical pack pattern.
Says BPA, "With a four-point changeover in under five minutes, the Spider 200i will provide snack manufacturers more versatility by allowing various product sizes and case types to be run on the same packaging line, including RSCs, reusables, and 1x display cases."
Among the benefits of the machine are that it allows users to service different supply channels, including Direct Store Delivery (DSD) and Centralized Distribution (CD) from the same line; it optimizes the plant layout, with a compact system that includes a case packer, erector, and closer; and it includes a fault detection feature that initiates the machine's relax mode, which opens up the case sealer section automatically, making obstructions easily accessible and minimizing downtime.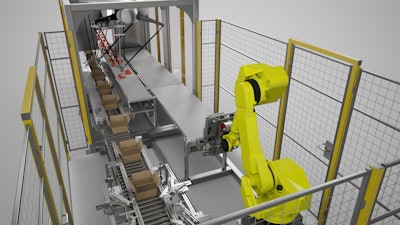 A new robotic case-packing system from Pearson Packaging Systems, the RTL-HV, can load product both horizontally and vertically and is designed for lightweight products with flexible packaging formats, such as bags, pouches, or flow-wrapped products. The RTL-HV uses a delta-style Fanuc DR-3iB/87 robot to either pick-and-pack products flat into a case or to form patterns in preparation for vertical loading, which is completed by a Fanuc M-710iC/50 articulated-arm robot. Explains Person, "Resembling a pitcher's mitt, this robot collects a full product pattern before the end-of-arm-tool clamps down to secure the load as it is being placed into the case."
Customers can purchase the delta-robot module, the RTL-HZ, by itself if they pack products exclusively in a horizontal fashion. If they load products upright for shelf-ready applications or require the flexibility to pack both horizontally and vertically, the two Fanuc robots are linked together. The base model can load 65 products/min horizontally and 10/min vertically; adding further deltas and/or catchers can increase the speed to 165/min horizontally and 18/min vertically.
---
---
Says Pearson COO Andrea Zaman, "Standardization promotes shorter lead times and reduced costs—highly attractive benefits that manufacturers across the country are desperately looking for. However, from an engineering perspective, standardization leads to narrowing of applications to guarantee the reliability of the solution. We had to strike a good balance."
Within the Fanuc delta unit, vision and line tracking facilitate continuous motion, which Pearson says maximizes performance, reduces mechanical wear, and enables products to be presented in random orientation, which eliminates the need for extensive product conditioning stations.
Another robotic case-packing system, this one from Proco Machinery Inc., can be integrated with either a Yaskawa Motoman HC10 or an HC20 six-axis cobot and is designed for use in blow molded-bottle manufacturing lines. The next-generation Pakman case packer is the latest iteration of the system from the company, which is a manufacturer of automation systems for the blow-molding industry.
The Pakman features a collating indexing accumulation system to accumulate complete layers of bottles inside the packaging cell so they can be picked up by Proco's end-of-arm tool (EOAT) and placed inside the box. Says Proco, traditional robotic movement by row would slow the cycle time of the packaging system; the accumulation indexing conveyor helps increase the line speed of the cell, as there is just one movement of the robot per layer.
In addition, says Proco, due to the high static of heated PET containers, they tend to repel each other when they are close together. The company's layer-pack EOAT technology ensures containers are placed inside the box as a complete layer, preventing any change of bottle position. Another innovative feature of the Pakman, the company relates, is its Integrated Rotary Inverting Technology, which helps rotate a layer of bottles to neck-down orientation in layer formation.
For one customer, Proco was able to provide a case-packing solution that handled both re-shipper containers and regular full boxes with one cell, with a quick-release tooling system that helped them perform changeovers for new pack patterns in 30 min.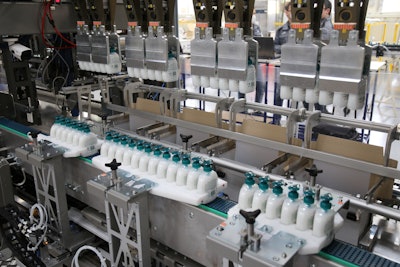 To reduce repacking activities—another effect of changing consumer preferences and the need for customization of value-added packs and new selling or shipping units—Sidel has introduced the Cermex EvoPack, a flexible Industry 4.0 robotic pick-and-place case-packing platform for shaped containers in wrapround blanks, trays, and shelf-ready packaging (SRP).
Says Didier Saussereau, Packing Product Manager at Sidel, "Certain food, home, and personal care sub-categories or players sometimes have customization needs for up to 40% of their production volumes. Until now, the most common way for producers to approach these requests was to use manual repacking services." Drawbacks of manual repacking include extra packaging material costs, additional labor, environmental waste, and the potential for scratching or scuffing of products during handling.
---
| | |
| --- | --- |
| | |
---
Adds Saussereau, to reduce and simplify repacking, there is an increasing need for small case counts to help producers reduce the number of products per shipping unit down to the in-demand batches of two, three, or four products. "These offer the opportunity to manage, store, and ship products more easily and flexibly for downstream tasks at distribution centers or within e-commerce order preparations," he says. "In parallel, demand for complex setups will remain and will still require manual repacking manipulations. So, with upstream technical capabilities to supply larger case counts, producers could ship the same number of products with less secondary packaging used and wasted.
"Now being able to produce both small and large case counts will help them better anticipate trends and accommodate new channels, as long as the traditional high production volumes of the standard formats are still handled on the same production line and packaging solution.
The Cermex EvoPack offers what Sidel says is an "unprecedented" secondary packaging size range to manage reduced case counts containing only two, three, or four products, as well as very large transit cases with 24-plus containers intended for repacking, while at the same time also being able to handle standard high-volume case formats.
The robotic case packer operates at speeds to 60 cases/min in a footprint that is less than 30 m. Changeover times range from just five minutes for a case-format change to 15 min when changing both the bottle and case formats.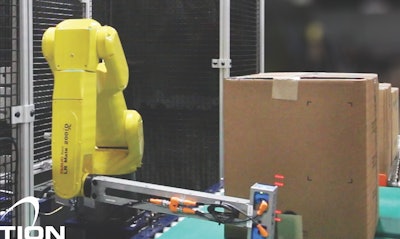 One final innovation that belongs with a discussion of robotic automation for case-packing operations is one that inspects for proper tape application following case sealing. The patent-pending system, from Motion Controls Robotics, features a Fanuc LR Mate 200iD/4S six-axis, 4-kg mini robot along with vision programming to detect proper application of tape on a variety of case sizes that run through the conveyor station.
Among the features of the system, it has the flexibility to fit any setup and rate, offers a small footprint, can easily be added to any stretch of existing conveyor, handles a range of case sizes, and inspects cases in random position on the conveyor.
Explains James Skelding, Director of Sales and Marketing at MCRI, the tape detection system can save companies thousands of dollars in shipping costs and customer issues by detecting improperly sealed cases.
Access the entire annual report on robotics from Packaging World: "New Advances in Robotics for Packaging"

---
PACK EXPO Las Vegas and Healthcare Packaging EXPO (Sept. 27-29, Las Vegas Convention Center) will reunite the packaging and processing community. With over 1400 exhibitors, no other event in 2021 will bring together a more comprehensive gathering of suppliers offering new products, technologies, and solutions. Attendee registration is now open.
Companies in this article