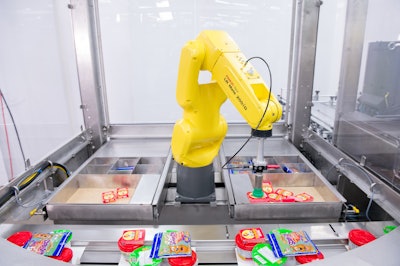 Advances in vision systems offer packagers one of the biggest opportunities for improving productivity. Many packaging applications make use of 2D machine vision, where grayscale or color imaging creates a two-dimensional map that allows for easy detection of anomalies or variations in part contrast. As this type of vision increasingly becomes cheaper and faster, its use in packaging continues to grow, particularly in functions associated with inspection, barcode reading, surface marking detection, and basic positional verification.
Now, with innovations in 3D vision, broader applications are becoming possible. Whereas with 2D applications, where objects being scanned must be on a flat surface and of a consistent size and shape, 3D vision gives insight into product depth and height and can therefore be used for random situations, where items are located haphazardly or stacked in a bin with varying orientation.
---
Read related articles from Packaging World:
Big Packaging Line in a Small Footprint? No Problem if it Handles a Dozen Formats
COVID-19 Brings Increased Visibility to the Role of Robotics
Wet Wipes Case Packed via Robots at 160/min
Pick-and-Place Robots, Flow Wrapper, Fuel High-Volume Bakery
---
One example that capitalizes on both 2D and 3D vision is Syntegon's horizontal flow-wrapper, the Pack 102, with three Fanuc robots, designed for small- to medium-sized bakeries and other food companies. At PACK EXPO Las Vegas in fall 2019, the system was demonstrated loading meal kits. Explains Syntegon, each robotic platform detects and prioritizes six independent production flows simultaneously and in sequence, operating from one HMI on the flow wrapper.
Using 2D vision and dual conveyor tracking, the first robot, a Fanuc SR-6iA four-axis SCARA robot, detects and prioritizes products from two low-friction flat-belt conveyors. The second robot, a Fanuc M-1iA delta robot, precisely detects product location from two side-by-side indexing conveyors using 2D vision. The final robot, the LR Mate 200iD six-axis articulating robot, picks product from two different bulk bins using 3D vision and places the assortment into the product infeed of the Pack 102.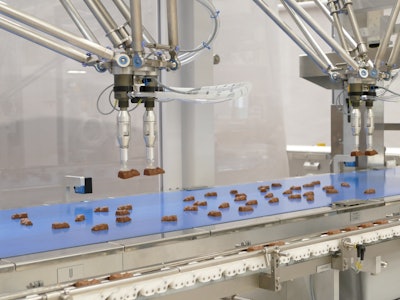 Another newly developed system allowing for productivity increases through vision is Theegarten-Pactec's Vision Picker, a robot system with camera recognition designed to feed its wrapping machines with delicate chocolate figures. According to the company, in the past, its machines had to work with chocolate molds holding a fixed number of products. These were placed by a robot in the feed chain of the packaging machine by means of a multiple tool.
The Vision Picker, it says, eliminates complex handling of the molds. Using an integrated image processing system, individual products are now detected within the disordered product flow. Each product is individually sucked in by the robot and placed in the correct position in the infeed chain of the packaging machine. Says Theegarten-Pactec, with the Vision Picker, "different product formats can be packed even more flexibly and therefore more quickly and cost effectively."
Coupled with its CWM2 wrapper, the robot can feed product at 400/min; configured with its high-performance machines, the robot can operate at a rate of more than 1,000 products/min.
Read Packaging World's full 2020 Robotics Special Report: Robots Drive the Manufacturing Revolution

Companies in this article