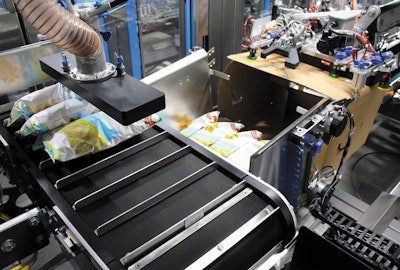 For Consumer Packaged Goods producers today, remaining competitive means boosting efficiencies and cutting costs, while at the same time producing the increasing number of SKUs needed for the growing omnichannel environment. Mass customization demands that packagers be able to produce a range of package formats and sizes quickly and cost efficiently. Packaging automation that provides that flexibility through easy programming and fast changeover is therefore highly desirable.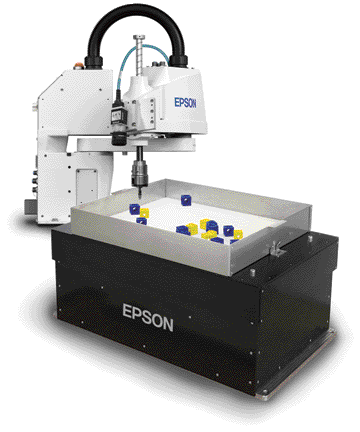 The new BluePrint Automation (BPA) robotic case packer, the Spider 200i, is specifically engineered to enable CPGs in the snack industry to service different supply channels, including Direct Store Delivery (DSD) and Centralized Distribution (CD), from the same line. The Spider 200i uses a multi-axis robot to pick snack bags on-the-fly and vertically case pack them into a cassette that forms a vertical pack pattern.
Says BPA, "The Spider 200i provides snack manufacturers more versatility by allowing various product sizes and case types to be run on the same packaging line, including RSCs, reusables, and 1x display cases." Optimizing the end user's footprint, the system enables case erecting, packing, and sealing in one compact machine.
Another new system designed for flexibility is Epson Robot's feeding system, the IntelliFlex™ 530, with a feeder size that can accommodate parts from 30 to 150 mm. The system supports simple to complex parts, as well as delicate materials, and offers an alternative to traditional bowl and flexible feeder solutions. The IP 530 comprises an Epson® SCARA robot (a number of robot models are compatible with the system), the company's IntelliFlex software, and either its Vision Guide CV2 or PV1 vision system. Applications include mechanical and electronic assembly, kitting, palletizing, tray loading, and material handling.

The new Cama robotic case packer, the IG, for flow-wrap packs of sliced cheese offers flexibility both in the collation configurations of the packages and in the case types, and can pack multi-flavor combinations in smaller volumes. Part of Cama's new BT Generation Systems, the line includes the Cama FA forming machine, Cama's model IG vision-guided robotic unit with four Cama delta robots, and a double-head lidding machine.
During operation, the line collects flow packs from two lanes, loading them into boxes in several different layer configurations according to customer requirements. With an infeed rate of 120 products/min from each of two lanes, the system can load both small shelf-ready packaging (SRP) cases, as well as larger trays, and reusable plastic crates.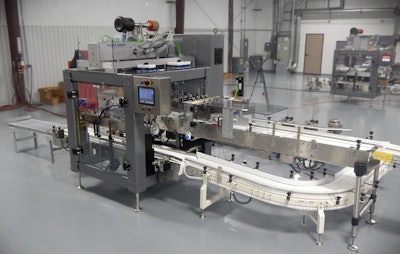 The new Fallas Automation robotic pick-and-place case packer, the R700R, uses the company's four-axis Adabot robot. For this model, Fallas has reduced the height of the robot by 30% for plants with height restrictions. According to the company, the shorter frame allows for 15% more picks per minute.
Flexibility comes into play with the case-packer's semi-automatic changeover, interchangeable pick heads, and range of end-of-arm (EOAT) options that allow for different case-packing needs. Fallas notes that "these features also allow for future product development, ensuring that the equipment remains functional even as packaging trends change."
Read Packaging World's full 2020 Robotics Special Report: Robots Drive the Manufacturing Revolution

Companies in this article
Videos from Cama North America