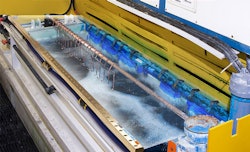 It reduces compressed air usage and noise when compared to other blowoffs. Air amplification ratios (entrained air to compressed air) of 40:1 are produced. Meets OSHA maximum dead-end pressure and noise requirements.
There are no interruptions or "dead spots", which means all surfaces are dried or cleaned. The Super Air Knife is available in aluminum, stainless steel, or PVDF for corrosive and high temperature applications.
Even at high pressures of 80 psig (5.5 BAR), the sound level is surprisingly quiet at 69 dBA for most applications.

Companies in this article