Founded in 1908 with the invention of the paper coffee filter by German housewife Melitta Bentz, the Melitta Group coffee company's history is steeped in innovation and a reputation for quality. In 1964, the Minden, Germany-based organization established its North American subsidiary, Melitta USA, Inc., in Cherry Hill, NJ, for the manufacture and distribution of its premium coffee filters and European-style coffee in the U.S. and Canada.
For more than 40 years, Melitta has been craft-roasting coffee in small batches in this 90,000-sq-ft facility. The Cherry Hill plant produces the company's complete line of 100% Arabica whole bean and extra fine grind coffee brands, deftly packaging them in a range of retail formats, including cans, bags, pods, and vacuum brick packs.
Beginning in 2007, Melitta USA embarked upon a two-phase, $10 million investment plan to enhance and expand its roasting and packaging capabilities. The first step was installation of a state-of-the-art, automated can-filling line. At the heart of the new line is a Mateer rotary filler, coupled with a Closetech seamer, both from PneumaticScaleAngelus. The equipment increases Melitta USA's output from 40 cans/min to 120/min, with opportunities for increased expansion, and provides the flexibility and ease of changeover for four can diameters.
From a quality position, a new can style and packaging process allows Melitta to pack its coffee "hot out of the roaster," for the freshest product possible. Says plant manger Vincent Tagliaferro, "We are able to pack coffee within 15 minutes of roasting—delivering an exceptional taste experience for our customers. Melitta built its reputation on quality, and this line reflects the company's ongoing commitment to deliver on that promise."
Packaging change is first priority
Melitta USA distributes its ground and whole bean coffee products throughout most of the U.S. and in Canada, with its canned product comprising the largest volume, at 55% to 60%. When the company began looking at its business in the mid-2000s for ways to increase its competitiveness in the market, its canned product presented the best opportunity for growth.
"I think you'd find in most coffee facilities, people would invest in the processing first, bring that up to speed, and then invest in packaging," says Tagliaferro. "We took a little different approach. We felt there were growth opportunities, marketing opportunities, and overall product quality opportunities with our packaging that we wanted to get to market with quickly."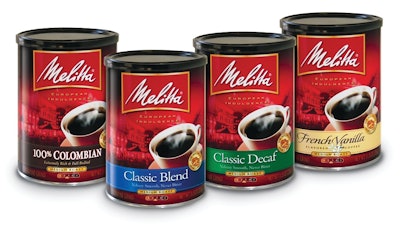 With this in mind, Melitta USA switched from a three-piece, vacuum-packed steel can with a sealed top that required a can opener for access to a can with a peelable, flexible film lid with a degassing valve. The packaging process for the former, vacuum-packed can required freshly ground coffee to degas before packaging. Degassing of the coffee, however, resulted in a loss of some of the aromatics and flavor components. The new Valved Ultraseal® membrane closure from Sonoco enables Melitta USA to fill the coffee immediately following grinding.
Says Tagliaferro, "With vacuum packing, you are packing coffee that is fresh, yet it has lost some of its aromatic potential. We wanted to change that process to protect our great flavor even better." The peelable film lidding also provides the consumer with easy-opening convenience.
Tagliaferro also relates that marketing saw an opportunity with the relaunch for the addition of a smaller-size can—a 10-oz (307) size—to Melitta USA's offerings, which included an 11.5-oz (401) can, a 23-oz (502) can, and a 2.2-lb (603) size.
The challenge from a packaging line perspective was finding equipment flexible enough to handle four can diameters, with minimal downtime for changeover. Of most concern was finding a can seamer to accommodate the varying sizes.
After "considerable research," Tagliaferro relates, Melitta USA chose the PS Angelus Closetech 2003 RCM (rotary closing machine). With the removal of six bolts and use of a small crane to lift out the seaming head assembly, changeover of the machine can be accomplished in about an hour, versus the six- to eight-hour changeover time cited by other manufacturers.
Changeover of the filler, a Mateer Model 6700 rotary filler, is also quickly achieved through the use of color-coded Zepf Mark II changeparts from PS Angelus. Says Tagliaferro, "The ease of changeover is just amazing."
Deliberate line design
From empty can depalletizing to stretch wrapping of final tray packs, changeover was a large consideration throughout the line, as was operator safety and efficiency, line speed, and the potential for future expansion. The investment required a strategic repositioning of equipment within the facility to allow room for the new line, which follows an orderly, rectangular path—with raw materials and finished goods moving through the same doorway.
With Phase II of the investment in mid-2010, new roasting capabilities will be added adjacent to the canning line, reducing the coffee conveying time between the roaster and filler from the current seven minutes down to three.
In designing the line, Tagliaferro says he used accumulation at critical points upstream and downstream of filling and seaming to protect the heart of the operation. "From our approach, when the filler isn't turning and the seamer isn't sealing cans, we're not making money." He further maximized the productivity of these machines, and consequently the freshness of the product, by placing them in close proximity, while still allowing room for an additional filler, if needed for future growth.
Accumulation and capacity were also used to ease the load on line operators—there are just three on the new canning line. Says Tagliaferro, "When you mix machinery and hurried operators, it's not necessarily a good formula for safety and overall employee involvement. We wanted a pace that was comfortable." For example, the depalletizer offers five pallet positions, which means the operator only has to load the machine every hour and a half. Six staging positions on the stretch wrapper also give the operator plenty of time to manage finished goods.
Operator safety was taken into consideration through the selection of ground-level equipment, including a low-level depalletizer and a low-level palletizer. A pull chain running the length of the line also ensures operator confidence in the safety of the system. "If at any point there's a safety incident or anything the operator feels uncomfortable about, they can hit the cord, and the entire line will shut down," Tagliaferro adds.
Capacity was also a critical consideration. "The line had to have the speed we needed to support the business and then ultimately for expansion," Tagliaferro says. "We sized the line components with a plan in mind for the future." The new filler can operate at speeds to 180 cans/min, with space allotted for a second machine, if needed. The can depalletizer has a top-rated speed of 400/min; the seamer, 300/min; and the tray packer, the equivalent of 200 cans/min.
"Will this ever be a 400-can-per-minute line?" asks Tagliaferrro. "I don't think so. But it will easily be a 180-can-per-minute line when the growth needs it. And ultimately it can pop up to higher numbers without tremendous investment."
Smooth operation
Operation of the line begins when a pallet of steel cans from Can Corporation of America is placed on a FleetwoodGoldcoWyard R4403PAR depalletizer, and the operator cuts a strap on the pallet used for transport stability. The cans are supplied with the flexible-film can lid facing down and the open bottom face up. Layer-by-layer, the cans are swept off the depalletizer onto a surge conveyor and then onto a singulating conveyor that aligns them in single-file.
Before being cleaned, the cans move through a simply constructed UHMW can inverter that positions them with the open end facing down. An Ionized Air bottle rinser from Carleton Helical Technologies is then used to clean out any dust that may have accumulated in the cans during transport. After being inverted again, with the open end facing up, cans are flushed with nitrogen before being filled with product to eliminate oxygen from the can and prevent coffee staling.
At the filler, twin augers are fed by a tubular drag conveyor, the Chain-Vey™ from Modern Process Equipment (MPE), that gently moves the ground coffee from the roasting area 300 ft to the filler. The augers feed a 15-funnel volumetric filling system that meters out the appropriate volume of coffee to each can. Immediately following, a CM6900GI - XE checkweigher from Mettler-Toledo Hi-Speed weighs the cans and their contents. Those cans without the appropriate fill weight are kicked off to a reject lane.
Cans with the acceptable fill weight advance on the conveyor and are again flushed with nitrogen, to remove oxygen from the headspace. They are then conveyed into the three-head rotary seamer, which creates a double can seam, attaching the steel bottom from Can Corporation onto the can. Frequent can seam analysis by Melitta USA ensures that the seal is hermetic. Says Tagliaferro, "We go to all that trouble to have a nice one-way valve on the top of the package, we don't want to end up having a leak at the bottom."
After seaming, the cans are coded on the bottom with traceability, code-date, and Best By (for U.S.) information using a Domino A-Series plus continuous ink-jet printer that Tagliaferro says is "very easy to use and very flexible." An accumulation table after the coder alleviates backups related to the labeler downstream. After accumulation, cans are inverted again, now positioned right side up.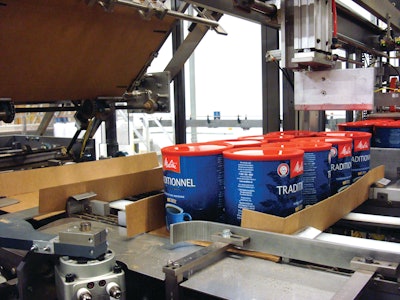 Next on the line, a B&H Marathon SL servo motor-controlled roll-fed labeler—the only piece of equipment used from Melitta USA's previous canning line—applies film labels with hot-melt glue supplied from a Nordson adhesive system. (Graphics for the new can labels were designed by Hughes Design Group.)
Lid application follows, with low-density polyethylene closures from Plastic Enterprises applied to the can using a Del Packaging SASRC overcapper. The overcapper is fed by an IVCL (Inclined Vertical Cap Loader), also from Del. Tagliaferro says Del worked with Melitta USA to ensure the company did not over-invest in cap-feeding technology—a welcome approach, he adds.
After some slight accumulation, cans head to a Flexipro Model 8447 tray packer from Thiele Technologies. Flexibility was vital with this operation as well, notes Tagliaferro, as Melitta USA needed to pack four different configurations, including an unusually long tray for an 8-pack, 2.2-lb Canadian product being packed in a 2X4 configuration. Since installing the tray packer, Melitta USA has added two more configurations, with minimal investment in changeparts, he says.
A Thiele Z Pro ZB36A101 shrink bundler then unitizes the trays with a clear shrink film, after which the bundles receive a corner-wrap bar-code label from an Arca Automation P183 Value print-and-apply labeler. Following labeling, a bar-code reader checks the labels, diverting bundles with unreadable bar codes into a reject lane.
Bundles with readable bar codes proceed down a zero-pressure case conveyor and are then fed to a FleetwoodGoldcoWyard L2025 palletizer. In the final step of the packaging operation, pallets are wrapped using a Wulftec WCA-Smart automatic turntable stretch wrapper.
Potential soon to be realized
Since becoming operational in July 2009, Melitta USA's new can-filling line has proven itself in terms of labor efficiency and productivity. "We feel that our growth is going to fuel the stability and security of our workforce," says Tagliaferro. "And it has actually been happening." While fewer operators are needed to man the new packaging line, the additional capacity has required Melitta to add six new employees to the plant.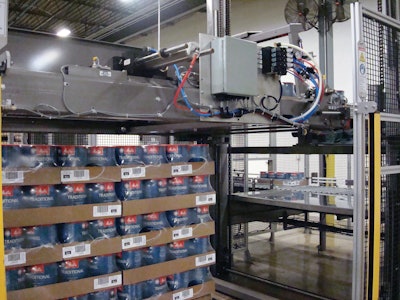 In terms of productivity, the line is currently outpacing the speed with which the company can roast coffee—a dilemma that will soon be resolved with the addition this fall of greater roasting capacity.
Says Tagliaferro, "We will realize the full value of this investment when processing comes online in November. The increased roasting and grinding capacity will allow us to achieve the full benefit of the payback. But we planned that as well, and we knew that there was going to be a transition year where processing was the bottleneck. We are looking forward to even better efficiencies and utilization numbers next year."
Overall Tagliaferro attributes the success of the new project to the teamwork of the Melitta USA employees, as well as the strong commitment from its suppliers. "This was a remarkable effort in terms of everyone having input," he says.

Companies in this article
Videos from Precision Automation® Company, Inc.
Videos from Nordson Corporation