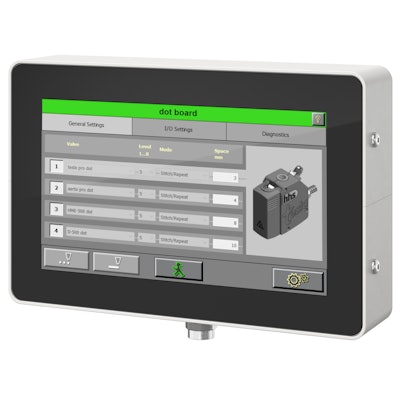 The dot board enables customers to reduce adhesive consumption in many hot melt applications by 50% or more, and thereby lower the associated CO2 emissions. The key is to switch from gluing lines to defined dots, which can be accomplished with a minimum of cost and effort by combining the dot board with tesla hot melt heads from Baumer hhs. Processes such as erecting trays or manufacturing wrap-around packaging can often be converted to dot application without compromising on the quality or reliability of the glued joints. Most of the time, in fact, this method even produces better results: Because heat is ideally distributed in the glued joints, dot application avoids cohesive failure and improves the quality of the joints.
The equipment is simple to install: The dot board is integrated in the control cabinets of the machine controllers, establishing a connection between the application heads and the PLCs. The tesla heads dispense adhesive with maximum precision, making them ideal for applying exactly metered dots of glue. The dot board converts the input signals from the packaging machines into high-frequency signals, which are required by the tesla heads to apply rows of dots.
The dot board ideally is combined with the Xmelt hot melt unit from Baumer hhs. This automated gluing technology takes sustainability and cost-efficiency to a new level on both latest-generation packaging systems and older machines that have been gluing food packaging for years. But even without the Xmelt, customers can significantly cut energy consumption and costs by combining the dot board with the tesla hot melt heads. Baumer hhs's tesla and aerto application heads can also be installed with minimum effort in gluing systems from other manufacturers.
Companies in this article