This content was written and submitted by the supplier. It has only been modified to comply with this publication's space and style.
Fogg engineered subtle changes that will be applied to all cap elevator orders and will easily integrate with existing Fogg Filler filling and capping equipment. The elevator itself is composed of stainless-steel, increasing strength and stability, with clear, polycarbonate covers over the belt, providing visual access while protecting your caps from any dust or debris. The cap elevator is slightly angled for cleanliness as well as improved cap handling. Instead of flat tabs on the belt elevating the caps, the caps are now scooped and lifted in cradles, protecting them from falling or rubbing against exterior walls. Fogg increased the maximum height to 177 in. and the maximum reach to 96 in., possibly eliminating the customer's need for a horizontal conveyor depending on the plant layout. Fogg also added a longer frame base to increase stability. Fogg also converted all the electrical wiring to be on the outside, so there is no longer a need to take out the belt for maintenance.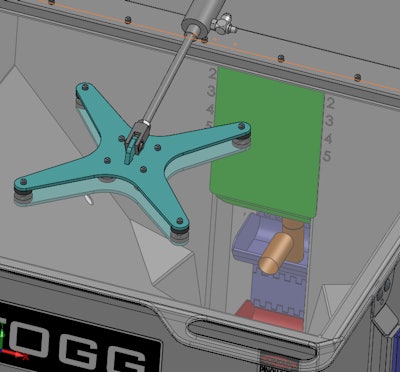 Fogg lowered the hopper approximately 10 in. for easier reach when loading and unloading caps. Additionally, the hopper now features a door that can be opened to quickly and easily release left over caps for changeover. This clean out feature is completely tool-less with a door that simply swings down upon turning a knob. The hopper has maintained all the capacity of previous versions, allowing for approx. 7 cu ft of caps. Another new feature on the hopper is the adjustable baffle (shown to the right in green in the photo to the left of this article). This new feature allows for more variable speeds, while being gentler on the caps. The baffle can be closed just enough to let the caps through to control the speed at which the caps enter the belt. It can also be opened further to allow for larger caps.
Companies in this article