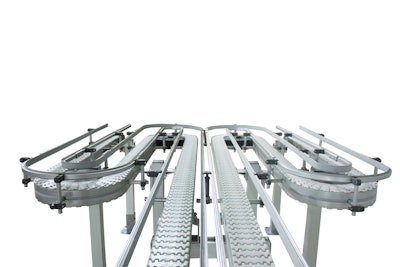 FlexMove conveyors are engineered for numerous applications, including:
• Packaging
• Automation
• Part handling
• Product transfers
• Machine conveyance
• Elevation changes
• Tight spaces
Styles include Helix and Spiral that feature continuous 360° turns for moving product up or down in a vertical space; Alpine design features long inclines or declines with tight turns; Wedge design conveys a product by gripping the sides; and Pallet/Twin-Track Assembly works by moving the palletization of products with similar sides.
FlexMove conveyors are available in three purchasing options based on the customer's application and situation. With FlexMove Components, customers can order all the necessary parts and components to build their FlexMove conveyor onsite. FlexMove Solutions builds the conveyor at Dorner, is tested then disassembled into sections and shipped to the customer for installation. Finally, the FlexMove Assembled Onsite option features the Dorner installation team assembling the conveyor onsite at the customer's location.
Companies in this article