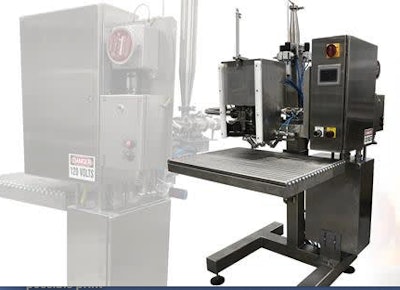 When packaging wine or alcohol, vapors could escape during the filling process and may create a fire or explosive hazard in the surrounding area.
The Autokap 600 has been designed with electrical components and pneumatic systems housed in air-pressurized cabinets, ensuring that any released vapors will not come in contact with electrical devices. The machine is also equipped with NAMUR sensors that run at a lower voltage which is below the threshold of sparking. These features can achieve a C1D1 (Class 1, Division 1) rating.
Rapak's small footprint Autokap 600 is a single-head semi-automatic filling machine designed for a wide range of fresh and stable liquid products. The machine features quick and simple bag size changes. Bags are manually loaded into the machine and after filling, they are released onto a roller conveyor for loading into boxes or crates.
Companies in this article