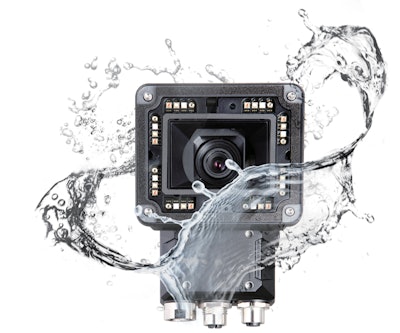 Consumers' quality and safety expectations are becoming increasingly strict, and corporate social responsibility is growing in importance. Manufacturers face the need for stricter quality control checks in order to maintain and improve product quality and safety while promptly identifying the causes of defects. The need to produce different products on a single production line is also increasing, and this in particular requires quality inspections of products in different colors, shapes and sizes. The FHV7 smart camera is designed to help manufacturers meet these inspection needs while minimizing downtime for product changeover.
High-performance smart cameras like the FHV7 make it possible to easily adopt vision inspection into flexible manufacturing processes. Equipped with a multi-color light and an autofocus lens, the FHV7 can respond flexibly to changes in the color and size of objects to be inspected. This eliminates the need for multiple cameras or manual lens adjustments and ensures compatibility with wide-ranging inspection criteria on lines producing many different types of products in varying quantities.
The smart camera's image processing reaches industry-leading speeds, while its camera delivers industry-leading resolution for achieving higher precision in inspections and maintaining quality without slowing production down. Added to these features is a high-speed image compression algorithm that compresses data at double the typical speed, enabling all image data to be saved while in parallel inspecting a second image. This facilitates complete traceability in production processes where quality control is paramount.
Features of the FHV7 include:
• Multi-color light that solves the issue of changing lighting when product designs are changed or new products are added to the production mix
• High-resolution image sensor that enable high-precision inspections for wider areas of view, eliminating the need for installing multiple cameras or a mechanism to move a camera to capture different inspection points on different products within the same production line
• Autofocus lens that covers a focal distance between 59 and 2,000 mm, ensuring that even when differently sized products are created, the focal range can be changed easily by altering parameters rather than moving the camera
• Modular structure that allows the user to freely combine the lens and lighting variants available for use with the camera
• Dual-core CPU that provides the fastest image processing speed among smart cameras (four times faster than the previous generation)
• High-speed image logging that enables image inspection to be conducted while image data is being saved
• High-speed image data compressionthat facilitates data storage enabling complete traceability
Companies in this article