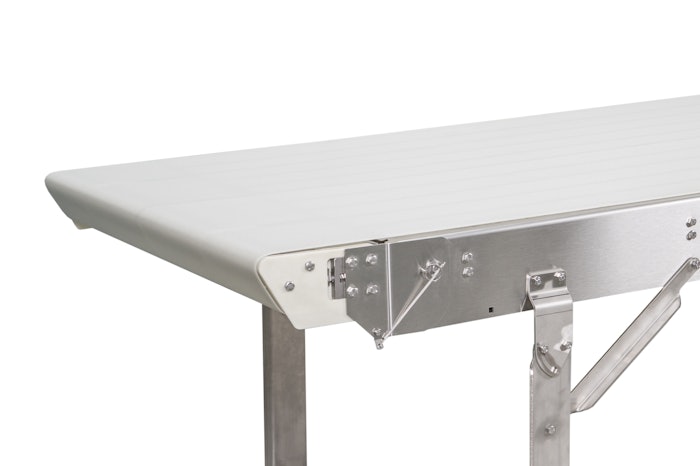 Belted LPZ, modular belt LPZ, and positive drive models will be available at a later date.
AquaGard 7350 V2's modular belt curve conveyor has no openings greater than the international standard of 4 mm, even within the curves, which increases safety by eliminating pinch points for operators. Added safety measures are also achieved by covering the upper and lower chain edges, and fully containing the drive system, which reduces catenary belt sag and conveyor noise.
Space reduction is another improvement on the AquaGard 7350 V2. The modular belt conveyor system is designed to maximize available plant space by keeping the footprint as compact as possible. Infeed and outfeed sections are a compact 18 in., further saving valuable floor space.
The conveyor comes with an improved tail design for superior drive support. The addition of a tip-up tail on the modular belt (straight) gives greater access inside the conveyor for cleaning.
Features and benefits of the AquaGard 7350 V2 sanitary conveyor include:
• Belt conveyors
     Optional nosebar idler tails with V-Guide tracking for keeping the belt in position
     7-gauge stainless steel stands for greater stability
     Stainless steel bed frames
     Flat conveyor sides allow more flexibility when mounting accessories, interfacing with other equipment and transferring of product
• Modular belt conveyors
     Mold to width belt chain up to 18 in.
     Flatter top surfaces – no edges
     Strongest 25 mm pitch curved chain strength at 2700N
     Robust single piece chain pin for ease of removal to adjust chain length
     Curved chain can be easily lifted in the straight sections for cleaning and maintenance
Companies in this article