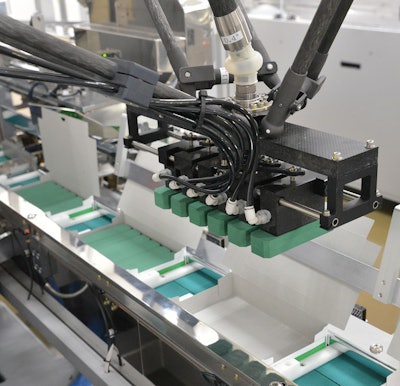 The robots feature lightweight carbon shafts that allow it to handle a maximum of 120 cycles per minute. End-of-arm tooling, buckets and containers can be changed to carton flow-wrapped, bagged and thermoformed packages.
Built for high-speed operations, a re-orientation turret rotates product 90-degrees, or up to 180-degrees, to align with the orientation of the conveyor for maximum efficiency and to reduce product build-ups on the line and any scratching, punctures or pinholes to packaging material.
Unlike traditional cartoners where a mandrel presses a sheet down to form a carton, the Tri-Seal Top-Load Cartoner places a sheet between the carton former and vacuum belt and the carton former acts as the mandrel as it travels up to press against the form. Because the sheet is controlled the entire time, more accurate and higher quality cartons are created compared to typical tri-seal cartoners.
Companies in this article