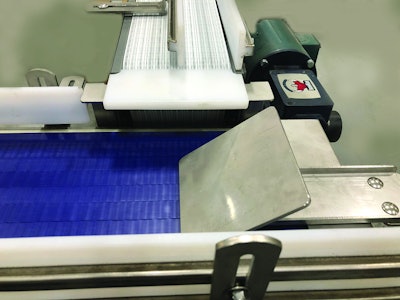 A "wrapped, packaged product conveyor" for individually wrapped pet food products, along with a separate full case conveyor for a manual hand pack area are also avaliable.
This video shows the machine in action. (Note: product shown is for demonstration purposes only.)
Settling or vibrating conveyors are used to gentlyshift product. In this case, vibration assists in separation of individual pieces for single filing prior to a right angle transfer that feeds a customer supplied wrapper.
The product orientation is narrow-edge leading when it becomes single lane. It's then transferred at a right angle to wide-side leading.
A simple, non-powered, right angle changes orientation at hi-speeds.An elementary, cost-effective pitched transfer plate was installed to ensure a smooth transition.

See more single filing conveyor solutions by viewing our entire video gallery.
Companies in this article