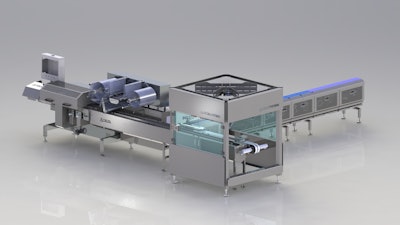 It is designed to reduce capital outlay and cost of ownership over the machine's lifespan while simplifying troubleshooting, fault recovery management and day to day operation. It also offers augmented reality features for trouble shooting and preventative maintenance.
"In developing the Raptor, we have achieved something we believe is unique in the marketplace. Traditionally, the robot and the flow wrapper would each have their own control platforms, and the line would cost in the region of $500,000. Our engineers have succeeded in integrating the robot controls within the wrapper, so rather than having two 'brains' controlling different parts of the process, the entire line is controlled by one 'brain'. This reduction of both hardware and software significantly reduces the overall build cost and has ongoing benefits from a cost and efficiency perspective," explains Liam Buckley sales director of Ilapak's Delta Systems Division.
On the Raptor, rather than the robot having its own 'black box' controls, all motion is controlled via a single Schneider control platform housed within the flow wrapper. This eliminates the need for two safety zones, two electrical panels and two motion control devices, resulting in an immediate cost saving that is passed on directly to the customer. Beyond the initial purchase, the shared control platform continues to minimize cost of ownership throughout the live cycle of the system. Commonality of parts such as drives and motors coupled with reduced software and hardware lowers the cost, complexity and frequency of maintenance. Furthermore, in the event of a line stoppage or malfunction, the single-board control architecture simplifies recovery and fault management as it eliminates the need for data transfer between two processors and encoders.
The Raptor is also the first system in Ilapak's portfolio to offer augmented reality capabilities as an option. This feature can greatly assist with preventative maintenance and trouble shooting. Simply hovering a smart device over the equipment will allow the operator to find out what preventative maintenance is required or how to solve a specific issue. For example, the augmented reality software might tell the user that 'this bearing is rated for 3000 hours; you need to change it in 1900 hours', thereby preventing potential unplanned downtime.
"We are seeing cost of ownership reductions in the order of 20-25% versus comparable systems. This makes the Raptor a very attractive option for biscuit, bar and chocolate manufacturers looking to invest in a future-proof line that combines reliable, high-speed operation with low running costs and the latest hi-tech features such as augmented reality," notes Liam.
On the Raptor, products are rotated 90 degrees via a series of indexing belts and delivered to a collation device. A four-axis robot picks each collation from the belt and places it into the infeed of the multi-pack flow wrapper. Speed is product dependent, but the line is capable of infeed cycle speeds in excess of 500 pieces per minute.
The Eagle flow wrapper, a high speed model designed to be integrated into a fully automated line, is at the heart of the Raptor cell. Key features include a multi-axis, servo-drive platform for tighter film control and heavy duty, plate frame construction. The flow wrapper is supplied with an IP65 rating as standard, but can be built to IP69 if full washdown is required.
Raptor was conceived as a flexible, multi-environment platform; with its standard IP65 and optional IP69 rating, both utilizing fully stainless steel construction, the robot is designed for full washdown, ensuring rugged performance in demanding environments like meat, dairy, ice cream and pizza production.
Companies in this article