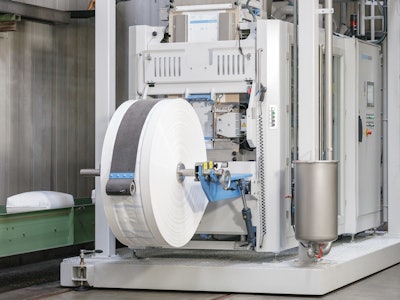 Depending on customer requirements the suitable machine performance class can be selected from the extended product range.
This machine forms a ready-made PE tubular film into a bag and fills it with engineering plastics like PE, PP, PA, or PS granules. Reliable and gentle filling is also possible for salts or fertilisers. The pellets are then weighed before the filling process. For this, the Beumer fillpac FSS is equipped with an electronic calibration-capable weighing unit. Then the system seals the bags with a weight of up to 25 kg.
The company develops entire packaging lines from one single source for the petrochemical industry. This means that the customer can reduce the number of vendor interactions as only one point of contact is required. The system supplier dimensions the performance of the single machines and components as well as the high-level control in an optimum way, providing the customer with maximum throughput.
"We offer an easy to clean solution for the low-capacity versions," says sales engineer Christian Freise from Beumer Group. Special products in particular and other coloured granules are handled at lower capacities. Fine dust is often a by-product when filling granules into bags. Another disadvantage is that small granules can get stuck in the machine. When using the Beumer fillpac FFS, the users can simply clean the machine with water, before a colour change. "The round scale we provide is designed so that residues can be removed more easily," describes Freise.
Companies in this article