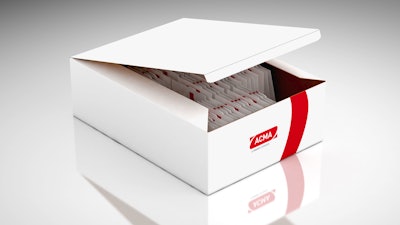 Dedicated sealed envelope for filter bags
Available on all machine models, the sealed envelope ensures product freshness providing a hermetic barrier for the filter. The feature may include gas flushing for additional protection and prolonged shelf life. The sealed outer envelope group is "fold-seal-cut", where the envelope is folded around the bag, then sealed and finally cut. In comparison to systems that cut the envelope and seal it around the bag, ACMA solution has the advantage to avoid envelope misalignment and the use of expensive packaging material, ensuring both an ecologic and economic benefit for customers.
Bag in bag multipack solution
Available on TM 320, but extendable on TD 300, this feature provides the sealed envelope of 2-3-4-5 filters at a time providing a reduction of outer envelope packaging material. This solution allows the purchase of a small envelope containing few tea bags, thus facilitating the selling of bags at kiosks in small units.
Teabag pouch of 20/25/50/100/150 bags
Available on TE 500, but extendable on TD 300 and TM 320, the pouch packing provides the sealing entire of rows of teabags, with counts from 20 to 150 bags, allowing both the reduction of outer envelope packaging material and of cardboard box costs. In addition, compared especially to single boxes, the pouching solution permits a dramatic reduction of shipping costs. This package is ideal for Horeca, where freshness and high rotation of single serve are predominant.
Primary Packaging: a thorough portfolio that meets all production needs
ACMA, also keep updating its portfolio of stand-alone machines for the primary packaging, which is based on four types of solutions. TD 300 is the company's latest addition to create double chamber bags with string and double knot tag, capable of reaching 300 bags/minute, made without using glue and staples. TE 500 is the high-performing machine (500 bpm) for heat sealed double chamber with string and tag, while TM 320 – a true "best-seller" on the market - is dedicated to high-speed packaging of heat-sealed bags with string and tag, capable of working with a wider size range than any other machine on the field. Lastly, TL 180 processes whole tea leaves with single chamber with string and tags at low speed (180 bpm). ACMA machines that produce heat-sealed bags can operate recyclable and biodegradable materials, such as PLA, in order to guarantee a product with a low environmental impact. Another strength of the ACMA portfolio is the capacity of ensuring the perfect type of processing based on the different types of tea and herbal tea blend - including those with high sugar content, thanks to the dosing units designed by the company.
Companies in this article