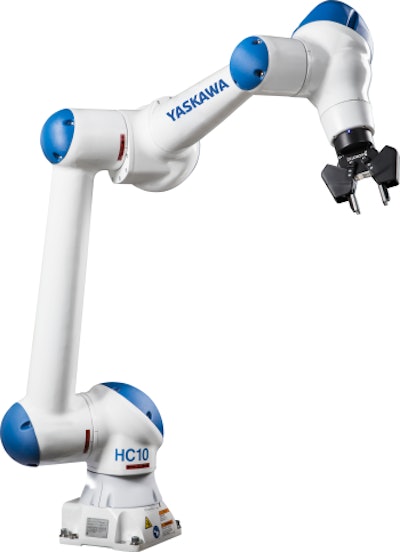 The highly configurable HC10 offers a 10-kg payload and 1,200 mm reach and can perform a broad range of material handling, machine tending, packaging or light assembly tasks. Function-specific tooling and accessories are available from various Yaskawa partners.
Dual torque sensors in all joints constantly monitor force to quickly react to contact; something typically only found in more expensive systems. It is designed to eliminate operator pinch points while through-arm utilities hide cabling and increase safety by reducing the risks of snagging or interference with other equipment.
The HC10 robot is controlled by Yaskawa's new high-performance YRC1000 controller that is built to a global standard and does not require a transformer for input voltages ranging from 380VAC to 480VAC. The YRC1000 is highly compact (598 mm wide x 490 mm high x 427 mm deep), resulting in reduced space requirements. Its I/O communication speed is improved by as much as 50% for improved work efficiency and a single controller-to-robot cable improves cable reliability. The improved programming pendant design features enhanced ergonomics and lighter weight.
In addition to traditional robot programming through the teach pendant, the user can hand-guide the HC10 robot when teaching new program paths. This innovative feature allows the HC10 to be quickly deployed or redeployed on demand, decreasing system downtime and increasing ROI. Whether operating at full speed or collaborative speed, cycle times are optimized based upon risk assessments and process requirements.
Companies in this article