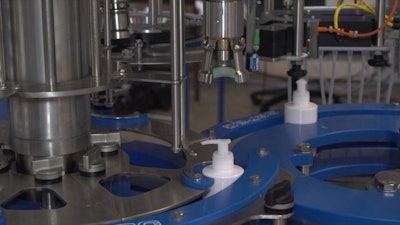 The eMC (electronic motion control) capper has been designed to meet the ramp-up needs of manufacturers who require quick change-overs with concentrated production runs.
Configured with 12 heads, the eMC capper will be able to reach an output of 420 pump bottles/min., which translates to 35 pumps/min. for each of the capping heads. It thus ranks at the highest productivity level of its category.
The eMC capper is able to handle nearly all the closing systems on the market today: oriented, non-oriented, screw and push-on caps, screw or push-on finger pump sprayers and pump dispensers, push-on trigger sprayers. Hence, this machine can be considered for production lines having to deal with a wide variety of packaging configurations, or as a scalable solution, allowing for the anticipate of a shift from conventional caps to pumps.
With all functions on a one single turret and mechanical cams replaced by servomotors, the capping unit is also more compact. It will thus integrate more easily on existing lines.
The new Serac capping machine is entirely controlled by B&R electronic components, which deliver optimum flexibility and accuracy at every step of the capping process.
Consistent use of electronics also simplifies production parameter management and allows qualifying of the screwing cycle (applied torque, number of rotations) for traceability and performance analysis purposes. And finally, the capper has an ultra-fast format changeover system: all tooling parts as well as capping jaws can be changed very quickly, without the need for tools.
Companies in this article