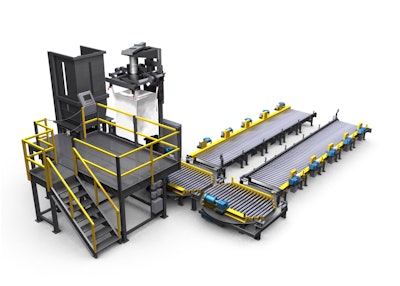 The complete NBE bulk bag filling process system, including: automated pallet introduction; automated metering of material supply; NTEP-certified, precision bag weighing; and automated, filled-bag accumulation conveyors enables a single operator to process up to 20, 4,500 lb.-capacity bulk bags per hour; or 90,000 lbs. of dry bulk material per hour.
NBE integrated automation uses a single, menu-driven HMI, designed and built by NBE, to centralize system-wide operations; including legacy, upstream material supply equipment. NBE integrated automation directs all equipment controls, communication, sensing, monitoring, and data reporting using UL listed panels built by NBE. NBE integrated automation reduced material loss, increased overall equipment effectiveness, and dramatically improved labor efficiency and safety.
Process line optimization begins immediately upon the introduction and staging of the first pallet. The NBE cantilevered fill head / bag hanger carriage uses pneumatic actions to bring the fill head and rear bag hooks to well within the operator's reach; no need for the operator to step or lean into the equipment. The 8 GPM hydraulic carriage easily and safely lifts bag capacities up to 4,500 lbs., far exceeding the lift speed and capacity of ball screw designs. This physical ergonomic design maintains optimal operator posture for safe and efficient operation. NBE NTEP-certified weigh systems provide valid, accurate, and repeatable weighing of the bulk bags to an accuracy of +/- .01% of the 4,500-pound bag weight. NBE, NTEP-certified, precision weighing improves total process efficiency by eliminating re-working of over- and under-filled bags, and reducing material loss. The NBE bag densification platform uses 3 Gs of high-speed, low-intensity vibration to settle material in the bag to a dense, stable, and safe load.
Companies in this article