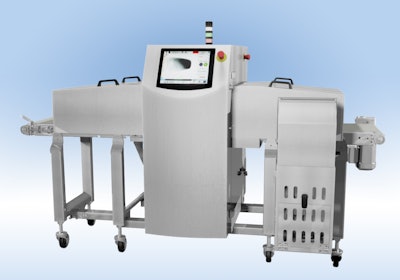 The NextGuard Pro X-ray inspection system features an extended, rugged, washdown conveyor capable of handling multiple large packages while also incorporating a complete rejection system.
Standard NextGuard C330 and C500 Pro X-ray machines are 1.5 m long (infeed, X-ray and outfeed), but with configurable modular infeeds and outfeeds can be up to 3.5 m long. All systems feature a fully integrated single belt design intended to eliminate potentially difficult product transfers between inspection and rejection. The monolithic approach also means rejection mechanisms, photo-eyes, shielding and other options can be easily accommodated.
The NextGuard Pro was engineered after a wide range of customer applications were examined and the global need for this type of X-ray inspection/detection configuration became apparent. To meet the needs of processors in countries with more stringent X-ray radiation regulations, additional shielding options are available. The NextGuard technology platform, including the C330 conveyor and C500 wider-aperture model, is already used in more than 30 countries.
Companies in this article