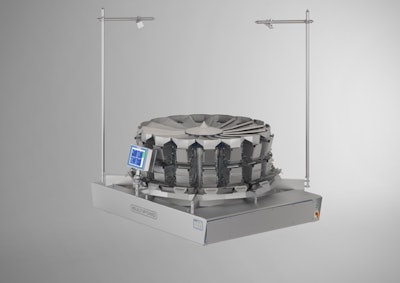 Distribution cone and feed trays have the tried and proven stepped profile. This patented innovation improves the product conveying characteristics of the weigher, and enables even adherent products to be conveyed in a controlled manner. The surface profile, combined with a refined, significantly stronger feed tray drive and a special inclination of the feed trays, are the basis for the trouble-free and gentle conveying of meat, which in turn permits the highest accuracy and speed.
In order to improve the product flow to the distribution cone and feed trays even further, the weigher is equipped with two special 3D cameras. These cameras tell the software how the products are arranged on the distribution cone and feed trays. Using this information, the multihead weigher automatically implements measures to ensure uniform product distribution and resolves any problems, such as pieces of meat that have become stuck. Fragmented product distributions on the distribution cone and feed trays are diagnosed and resolved accordingly.
The protein weigher satisfies the most demanding hygiene requirements worldwide. The weigher is completely designed in accordance with USDA and EHEDG directives, creating the basis for simple, fast and reliable cleaning. The weigher is designed for an output of up to 100 weighings/min., depending on application, product and target weight, with the highest degree of accuracy.
Companies in this article