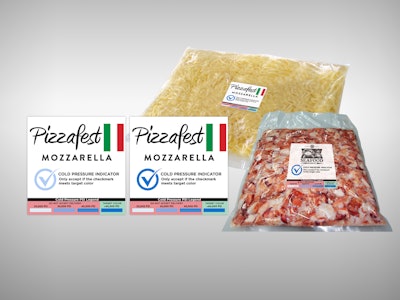 The launch by CTI is a first for the inks and food industries worldwide.
Also known as High Pressure Processing, HPP treatment is used within the food and beverage industries.The HPP machines are specially designed to inactivate pathogenic bacteria and thereby extend shelf-life.Conventional "pasteurization" uses high temperatures, which degrade the taste and nutritional value of foods and beverages.
One of HPP's great advantages is that the product subjected to HPP looks identical to products that have not undergone HPP treatment.This is also one of its great weaknesses: it is impossible to know by visual inspection whether or not a product has been HPP-treated.This creates a tremendous challenge for everyone in the supply chain.
The immediate demand that CTI is fulfilling is from food service companies who are receiving shipments of HPP foods such as meat, seafood, cheese, juice and vegetables and need to give their restaurants or grocery stores a quick visual indicator on whether they should accept delivery of food products.
HPP is approved by the U.S. Food and Drug Administration (FDA) and the U.S. Department of Agriculture (USDA). HPP eliminates bacteria through high-pressure, and can be used for both organic as well as natural foods.Additionally, HPP can be conducted at refrigerated temperatures. As such, HPP does not alter heat-sensitive foods such as meats, fruits and vegetables. While the benefits of HPP have a lengthy history, modern advances have shown that, in addition to the health benefits, the HPP process allows a product to be shipped/stored refrigerated rather than frozen, providing considerable economic and time savings. The CTI technology for HPP is also applicable to pharmaceutical products.
Companies in this article