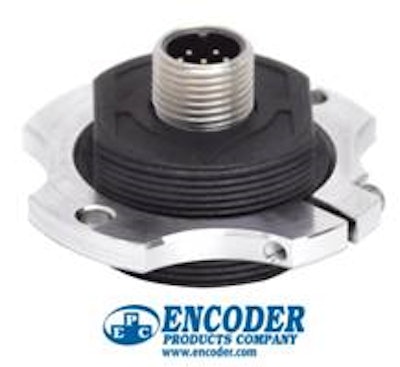 By means of advanced sensing and signal processing technology, the Model 30MT provides accurate incremental feedback, even in harsh operating conditions. With its threaded housing, the Model 30MT is simple to install.
Designed for tough industrial environments, the Model 30MToffers sealing up to IP69K and is virtually impervious to dust, dirt, and moisture. It features a chemically inert high-temperature nylon composite housing and non-contact magnetic sensing.The encoder is capable of operating in temperatures from -40 deg. C to 120 deg. C and features a threaded housing for easy installation. With a generous sensor-to-magnet air gap of 0.022 in., the Model 30MT holds ratings of 100 g @ 11ms for shock and 20 g @ 10 to 3000 Hz for vibration.
Even with its tough housing, the Model 30MT features advance signal processing circuitry which allows for a wide sensor-to-magnet air gap, while still providing excellent waveform symmetry and repeatability, delivering signal accuracy exceeding that of many magnetic encoders.
Companies in this article