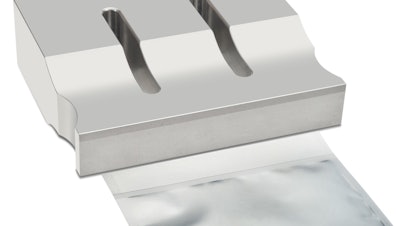 The new patented technology significantly reduces the need for additional stations on a pouch sealing machine. Rinco's new patented technology takes its already proven barrier seal geometry PPS0145 and incorporates a follow-up cosmetic seal in one stroke at a single station.
Competitive seal offerings have been unable to meet the needs of packaging applications that require sealing through the top of the pouch. Competitors have relied on a separate heat seal station to create this "cosmetic" seal. Rinco's new patent allows for a wide 4-mm barrier seal and in some applications up to 20-mm of cosmetic seal, which eliminates the need for a follow-up heat seal station and subsequent cool station.
The new seal geometry, PPS0145 Hybrid, is used in conjunction with Rinco's complete line of flexible packaging actuators that fit most major in-line horizontal or rotary horizontal pouch filling machinery, making it the most modular and adaptable system on the market.All of Rinco's FPA systems are CE certified and IP67 rated thus assuring users and OEMs of high quality and compliance with regulatory directives. Rinco has also developed a Flexible Packaging Actuator that has been modified to handle more caustic materials and cleaning solutions that resist erosion and deterioration, thus increasing its life span and reducing downtime.
Companies in this article