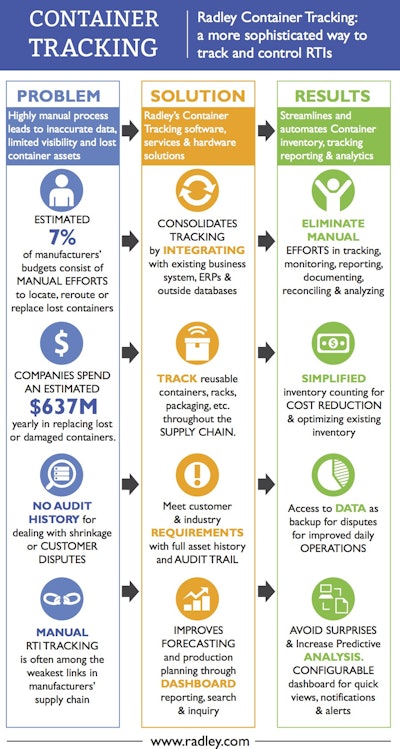 Hundreds of millions of dollars are spent on reusable containers, racks and packaging with little thought as to how they will be managed and maintained. Manual processes that take place to inventory, reroute and replace containers can be a significant unplanned cost. Radley helps identify areas that can be automated and streamlined using sophisticated software for EDI, Manufacturing and Warehouse.
Highly configurable and easy to use, Radley's Container Tracking solution can be integrated to existing enterprise systems or as a stand-alone solution. Utilizing RFID, data is collected as containers move throughout the manufacturing, warehouse and distribution processes. Radley filters, aggregates and validates the data to provide real-time reports, dashboards, alerts and notifications based on a company's specific business rules and requirements that can be viewed from a PC, device or tablet.
Radley's Container Tracking solution can greatly improve visibility and control of reusable containers, racks and packaging as they're moved throughout the supply chain. With reliable data, better business decisions can be made; shrinkage levels drop, error and risk is minimized, labor is reallocated and product movement workflows are improved.
Companies in this article