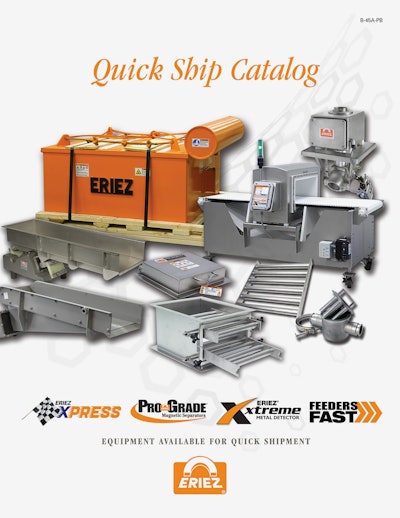 The literature covers the company's four most popular quick-ship programs: EriezXpress™, ProGrade® Magnetic Separators, Xtreme® Metal Detectors Quick-Ship and Feeders Fast. Some equipment ships as quickly as the next business day after the order is placed.
Eriez ProGrade magnetic separators offer a solution for every process application. Whether a customer needs a low cost plate magnet for equipment protection or a high-power sanitary grate magnet to ensure product purity, ProGrade provides the best for less. Three levels of ProGrade magnets are available in grate, plate, tube and trap assemblies. The brochure includes pricing information for each magnet.
The Xtreme Metal Detector Quick-Ship program is designed to match stocked conveyors and Xtreme Metal Detector apertures to meet a one to two week delivery. Eriez stocks four stainless steel wash-down conveyor widths and 25 metal detector apertures for quick assembly and delivery. Select vertical and liquid line systems are also available.
Feeders Fast offers nearly 40 feeder models using stock components for shipment within five days (with conditions based on prior sale). These reliable, energy-efficient AC-powered electromagnetic vibratory feeders are ideal for many sanitary, industrial and process applications. Compact feeders up to 20 TPH are available in tray sizes to 16 inches wide and 60 inches long. Heavy-Duty feeders are offered in four models with capacities from 70 to 420 TPH.
Eriez has grown its EriezXpress stocking program to cover everything from grate magnets to vibratory feeders and metal detectors. Many of these quick-ship items are available in three convenient designations: Next-Day, 5-Day and 10-Day shipment.
Six of Eriez' most popular manual cleaning SE-7000 Series Suspended Electromagnet models and controls are available for express assembly in 10 days. (Two are in stock with standard options.) These manual clean magnets range from 42 to 78 inches wide, offering a size to meet most typical conveyor widths. Customers can choose from various options to meet their needs for suspension style, junction box rating, high elevations and oil type.
The brochure is available for download from the Eriez website.
Companies in this article