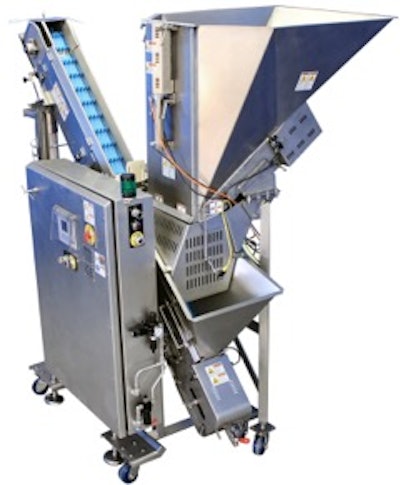 The batch feeder meters a continuous flow of product to the hopper of the volumetric filler thereby reducing the amount of manual labor involved in keeping the hopper full. It can be fed with a post dumper, conveyor, or chute from a second floor or high platform.
The compact machine can be mounted directly onto the frame of a Multi-Fill volumetric filler and controlled through the HMI of the filler. The batch feeder automatically speeds up and slows down with the filler as the line increases or decreases in speed. A stand-alone version of the batch feeder is also available. First in, first out flow ensures freshness and helps maintain product appearance and integrity.
There is no tunneling damage which is a common problem with augers or other transport devices. Quick release components allow operators to quickly disassemble, clean, and reassemble the equipment (without tools). The cabinet swings away from the filler for easy access. Existing Multi-Fill fillers can be retrofitted with a batch feeder.
Companies in this article