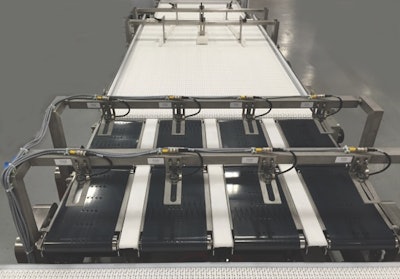 Initial conveyors transport the product on a slight incline with curve; then over power transfers, transitions, and a product turner. The product turner can rotate bags as needed, or can be adjusted for straight running product, depending on the customer's needs.
The product then travels through a checkweigher and metal detection system that Multi-Conveyor has integrated into the line. The v/f/f/s seal bags pass through a compression belt to distribute product evenly for stacking and packing purposes. A retractable noser, complete with servo driven extend and retract for discharge, gently releases the flexible bags onto a lower belt traveling at a right angle. The lower belt has adjustable, multi-lane dividers that can be set up to handle either two or four lanes of product.
Multi-Conveyor provides all controls including touchscreen capability, variable frequency drives, servo drives and other devices as needed while using UL listed components, NEMA 4 enclosures and accommodations as required.
Companies in this article