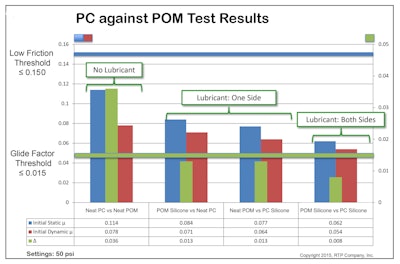 RTP Company offers tribology data from a new friction test to help designers of drug delivery devices select the best possible material for single-use applications.
Designers, OEMs, and molders are aware of the issues that can arise when single-use drug delivery devices fail. It is critical that devices such as auto-injectors, injection pens, stop cocks, and safety syringes move easily and have a low breakaway force to overcome friction. Various external factors, such as long periods of inactivity, shipping, and cold storage conditions, can all have an effect on the friction behavior of plastic-on-plastic moving parts. These factors increase the chances of stick-slip phenomena or "stiction," resulting in poor performance of a drug delivery device.
Until recently, there were no established industry tests that accurately predicted friction behavior in single-use devices, making precise material selection difficult. RTP's friction test accurately predicts friction behavior in single-use devices. Using the new test method, RTP Company explored base resins, including polycarbonate (PC), acetal (POM), acrylonitrile butadiene styrene (ABS), polycarbonate/ABS alloy (PC/ABS), high density polyethylene (HDPE), and polybutylene terephthalate (PBT). These resins were tested in a variety of combinations with friction-reducing additives, including polytetrafloroethylene (PTFE), perfluoropolyether (PFPE) oil, and a selection of silicones, along with RTP Company's own All Polymeric Wear Alloy, known as APWA Plus™.
Companies in this article