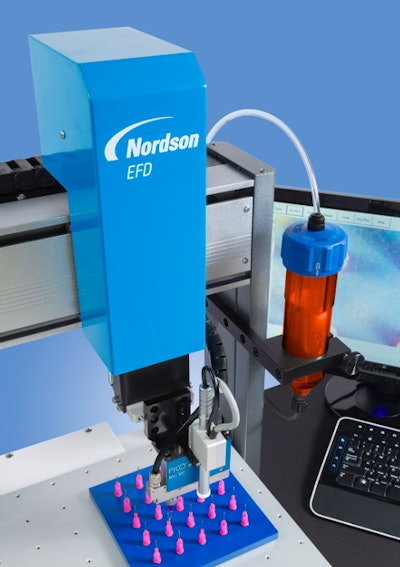 These closed-loop systems ensure that the dispensing process stays in control. Customers will benefit from faster cycle times, reduced manufacturing and ownership costs, and the flexibility to use the same automated dispensing system in different production areas. This is the first time these dispensing systems are being exhibited in the United States.
The system consists of the Pro, the E, and the EV series. The PRO Series integrates vision and laser height sensing with closed-loop encoding to provide a complete automated solution with advanced dispensing capabilities. A smart vision CCD camera captures detailed component part images and converts them into high resolution digital files to simplify tedious programming. The vision system is integrated with EFD's new DispenseMotion™ software which is specially designed for precise fluid dispensing. Tasks like importing and converting DXF, CAD, and Excel files are simple, and true three-dimensional motion control allows easy programming of dots, lines, circles, arcs, compound arcs, and complex patterns.
The PRO4L Series incorporates a fully integrated laser height sensor that detects height variations on the surface of a product and makes corrections to the dispensing height to prevent uneven deposits and tip or workpiece damage. The EV Series includes a simple vision camera to support on-screen set-up, while the E Series relies on a Teach Pendant for dispense programming.
"Nordson EFD's new PRO Series automated dispensing system 'thinks'," says Nordson EFD product manager Kelvin Fernandez. "Programming is going to be much faster, because it's simple to learn and it's easier to visually see your dispensing path as you set the parameters. And with the closed-loop system, it's constantly checking to make sure that your dispensing process stays in control."
Nordson EFD experts will be at the booth to assist customers in evaluating the various options, to help assess which automated dispensing system best meets their requirements, and to answer any fluid dispensing questions.
Companies in this article
Videos from Nordson Corporation