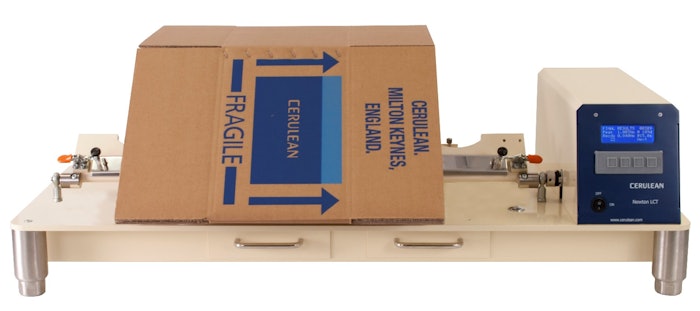 It uses a full HD camera to measure and record dimensions, angles, and symmetry of carton crease, bead and formed box. It quickly assesses the multi-layer construction of all types of printed or non-printed carton board, paperboard and waxed carton product.
The company will also be exhibiting its laboratory carton tester (LCT) at the show – the only product available that tests a whole carton up to 530mm.
The LCT measures crease strength and box-forming force for every degree of deflection. It also measures slip resistance and friction properties to eliminate carton sticking and feeding problems during high speed packing.
A portable (PCT) version is also available for tests between sites.
The Cerulean carton crease testers come pre-programmed with analysis and reporting software to provide easy comparison between sites, batches and carton types. They help ensure consistency of supply for carton manufacturers – reducing waste and returns.
Companies in this article