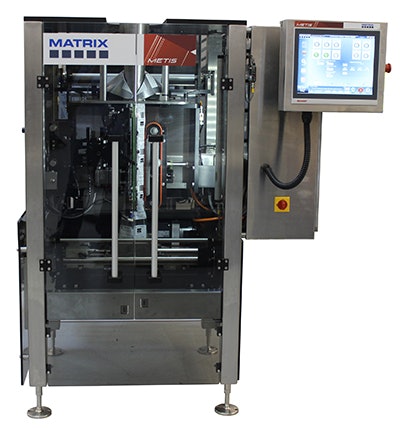 Flexibility in units per minute ensures optimum product flow and quality packaging through every hour of operation. This breakthrough is based on some of the most advanced design engineering and motion control technology implemented to date by Matrix.
"Matrix refrained from manufacturing continuous motion vertical form-fill-seal machines until now because of the inherent inflexibility of a machine that only puts out quality packaging at a very defined and narrow operating rate," said Marc Willden, Vice President and General Manager. "What's changed is the availability of new high-speed, reliable servo control technology. Ultimately this is all about maximum product flow given real world conditions and that is what this continuous motion machine excels at – optimum output."
Willden said that the most common problems causing an uneven flow of product to the form-fill-seal machines are associated with scales, upstream feeding systems, and bulk loading systems.
In the design phase of the Matrix Metis, engineers compared a number of control hardware and software solutions. A Beckhoff PC based solution out- performed the others in terms of high-speed, precise motion control and was adopted for the new machine. This PC-based control system ensures off-the-shelf availability of PC hardware and ever increasing processing power as the PC industry progresses. The Beckhoff system features the open EtherCat communication network for effective communications to other machines and to business systems.
The control architecture is PackML compliant, which helps to speed up integration with other units on the line and operator training through industry standard approaches to control. A 15-inch operator interface offers capabilities similar to a tablet computer, allowing operators through touch and swipe actions to call up the screen most helpful to them and to have several screens open at one time. The HMI's capabilities are designed to aid operators in maintaining high equipment effectiveness and quality packaging.
Vacuum pull belts improve performance when running the most commonly applied films as well as films that are difficult to handle during intermittent motion or films made with new, more sustainable polymers. This improved handling of a variety of films presents marketers with greater packaging options. Engineers opted for a rotary horizontal sealing system featuring a simple, easy to maintain design that is highly reliable. Toolless changeover simplifies changeover and helps increase uptime. The machine's open design facilitates fast cleaning. Bag width ranges from 2 to12 inches and bag length from 2 to 30 inches. This machine forms pillow bags and Matrix will explore different bag options in future iterations.

Companies in this article
Videos from Matrix Packaging Machinery